Having grown up riding, I fully understand the draw of a horse. There is nothing like it. But for those with disabilities, having the power for four strong legs under them is something that can only be described as finding the pot of gold at the end of the rainbow. The new Rainy Day Ranch Therapeutic Riding Center in Olympia is creating the rainbow to find that gold by offering hippotherapy and adaptive riding.

The 501(c)3 riding center is the heart child of Lauren Cramer, who moved to Olympia 12 years ago with her husband, a North Thurston High School alum.  "Our oldest daughter, Ella, was diagnosed with Rett Syndrome when she was 3," Lauren shares. "I immediately started reading everything I could to find the best therapies to help her be as strong and capable as possible. I read about how hippotherapy (physical therapy on a Horse) and therapeutic riding can have many benefits for kids and adults with Special Needs. It is especially good for people with Rett Syndrome as it helps increase core muscle strength, slow down the progression of scoliosis, loosen stiff gaits, and increase confidence."
While enjoying the feeling of those strong legs and listening to the rhythmic hoof beats and steady breathing of their trusty mount, riders are hardly aware that they are doing really hard work – learning balance and posture and gaining muscle strength, without stepping foot into a therapy office. "At the age of 4 she began therapeutic riding at Horsepower, a program that no longer exists," continues Lauren. "She required two sidewalkers just to keep her upright on the horse. After just three months, her core strength had improved so much that the sidewalkers were just there to make sure she was safe. After six years of riding, we met Cynthe Slaybaugh, a local physical therapist and hippotherapist. Ella never liked PT in the standard office settings, but when she began hippotherapy she allowed Cynthe to stretch her body while riding. She is now 15 and her posture, walking, and core strength is all due to riding horses."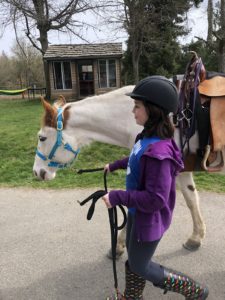 It can be hard to go to physical therapy (been there, done that!) and it can be discouraging if you don't feel progress. Going for a horseback ride feels like a reward in and of itself, making each session feel like a huge success, no matter how small a step the real progress is.
What is Hippotherapy?
Simply put, hippotherapy is physical therapy on a horse. The benefits of it are too numerous to list, but include balance strategies, body awareness, circulation, endurance, expressive and/or receptive speech and language, muscle strength, neuromotor function, respiratory function, self-confidence, motivation, and much more. "Hippotherapy is an amazing way to use the movements of the horse to help patients move their bodies in a way they couldn't otherwise," explains Lauren. "For example, girls with Rett Syndrome typically have very stiff gaits. This stiff gait affects the way their spine moves, how the muscles around their spine form, and the movement of their pelvis. When Ella is on the horse, her pelvis moves with the horse, allowing her spine and muscles to move as if her gait is as smooth and natural as the horse. For about 30 minutes after riding the horse, her gait is smoother and more consistent. The effect doesn't last forever, but it is enough to allow her body that natural movement for a time and strengthen those muscles. It's amazing!"
What is Adaptive Riding?
Adaptive riding lessons teach horsemanship skills and horseback riding, with the lessons adapted to the needs of the rider, explains Stephanie Whitesides executive director at Rainy Day Ranch.
Stephanie is also the instructor for the classes. She discovered therapeutic riding in April 2015 while attending Texas Tech University. "I immediately fell in love with the therapeutic riding industry and the power it has to help people," she shares. Stephanie has a certification in teaching therapeutic riding and equine specialist in mental health through PATH International (Professional Association of Therapeutic Horsemanship). "It is important to us to have instructors and therapists that are qualified to teach and practice in this particular field," she continues. "PATH is one of the leading associations in the industry, with high standards of teaching, safety, facility management, and horse care. We plan to become part of the therapeutic riding industry by positively impacting our community through the services we offer. These certifications allow us to give a high quality of teaching and care for our participants."
Cynthe Slaybaugh, Ella's physical therapist, is certified to do therapy sessions on horseback through the American Hippotherapy Association.
Join Rainy Day Ranch
Contact Rainy Day Ranch to set up an evaluation if you are interested in their services. "Evaluations serve to help determine if the program is a good fit for the student and to ensure that everyone (rider, students, and volunteers) can be safe during lessons," explains Stephanie.
The evaluation costs $30. One horse therapeutic riding lesson is $40. Hippotherapy is $35 plus the therapist fee and varies in length depending on needs of the rider.
Their first session begins August 6 and runs for four weeks. Their second session starts September 10.
You can also join by volunteering! While a background in horses is helpful, it's not a must. "Volunteers are the lifeblood of a program like ours!" says Stephanie. "Volunteers perform as sidewalkers during lessons to assist riders and keep them safe. Volunteers also can perform as horse leaders to help guide our horses, and get horses ready before and after lessons. Additional training is needed to become a leader. As the center grows, we will have many more volunteer opportunities available at the center."
Consistency is helpful with this work, so it's great if a volunteer can be at the same lesson with the same rider each week. You can contact them through email, Facebook or phone to find out more about volunteer opportunities. And of course, you can also donate monetarily if you cannot donate time.
For more information visit the Rainy Day Ranch Therapeutic Riding Center website, follow them on Facebook, call 360-915-9221, or email rdrtherapeuticriding@gmail.com.