In 1938 the average cost of a new house was less than $4,000, a gallon of gas was 10 cents, and Howard Hughes broke the record for traveling around the world in only 3 days and 19 hours. It's also the year Saint Martin's University's beloved Abbot Neal Roth was born.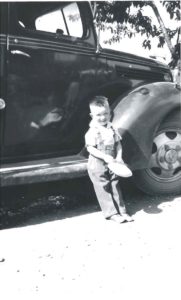 On Saturday, August 4, Saint Martin's will honor his long tenure—and celebrate his 80th birthday—with a tribute to this dedicated Saint.
Deuteronomy 5:33 says "You shall walk in all the way that the Lord your God has commanded you, that you may live, and that it may go well with you, and that you may live long in the land that you shall possess." For Abbot Neal, the land in question is a lush, green Lacey hilltop.
"I first visited in 1955 when I was still in high school in Yakima," says Roth. "I had a distant cousin in the monastery and he was making his first vows so I came with an aunt and cousin to witness this occasion. It never was my initial intent to enter the monastery two years later. I kept in touch with the cousin and came right after high school graduation in 1957. After I finished my initial formation, I began taking college classes and working full time in the college library. From a very early age I wanted to be a teacher. I majored in education with an emphasis in English." He later went on to receive his master's degree in education from the University of Portland.
He started teaching at what was then Saint Martin's High School in 1964 and was ordained a priest in 1974, the same year the high school closed. In 1975, he received his master's degree in divinity from Mount Angel Seminary in Oregon. After returning from the seminary, he taught on and off at Saint Martin's College from 1978 until 1986. "I had many assignments after ordination, including some years at Sacred Heart Parish in Lacey," says Roth. He served as assistant pastor for Sacred Heart from 1980 – 1981, and then as pastor from 1982 – 1984 and 1986 – 1990.
Another long-time resident of the campus is Father Kilian Malvey, a professor in both the English and Religious Studies programs. While his time at Saint Martin's predates Abbot Roth by a few years, his friendship with Abbot Neal is enduring. "The first time I met Abbot Neal was at the start of our novitiate, July 10, 1957," fondly recalls Malvey. "He just graduated from high school and I just completed my sophomore year in college. Our first assignment was to be sent to the farm to collect eggs from the 1,500 chickens we had at that time and to weed the vegetable garden. He was so shy that it was like pulling teeth to get any kind of a conversation out of him. Man, has that changed! Now, try getting a word in edgewise."
In May 1993, Roth was elected to be the eighth abbot of Saint Martin's Abbey. During his tenure, Saint Martin's has grown and changed: it became a University, added new degree programs, expanded its offerings locally and abroad, and incorporated new residence halls and facilities.
As Abbot, Roth has dedicated his life to all aspects of Saint Martin's. "I appreciate our abbey's mission of the university because it is a very fine service and ministry to the public," he says. "We have educated many professionals in Thurston County over the years. I have greatly enjoyed seeing the university grow in reputation, more buildings on campus, and more to come. We are even now preparing to build a science building, which will be a great asset to the university and our science majors."
This past February, Leadership Thurston County recognized the Abbot's leadership through decades of growth and named him as one of their Distinguished Leadership Award recipients.  At the May Commencement, the University surprised the Abbot by granting him an honorary degree. "Having been here on campus since 1952, I most appreciate the continuity of the Saint Martin's spirit of hospitality and welcome it has always provided for its visitors, students, faculty, staff and the stranger," Malvey says in agreement to Roth. "I also appreciate the ability to maintain, in spite of local pressure for in-roads and need for expansion, the forest and wildlife that we have on campus. The local community seems to appreciate our Benedictine spirit and care for the environment."
And both school and staff beautifully walk the tightrope of tradition and change. "Some people may not know that we monks came from St. John's Abbey in Minnesota and founded the university in 1895," says Roth. "The first semester had but one student from Shelton, Angus McDonald, who supposedly came by canoe from Shelton! By the second semester we grew to six more students and we have continued to grow for nearly 125 years. My hope for the future is that Saint Martin's University will continue to grow and prosper and so continue the important mission of education in our Catholic and Benedictine tradition."
To honor Abbot Neal's legacy of leadership and the Benedictine values he models every day, including hospitality, stability, stewardship, and respect, Saint Martin's University recently established the Abbot Neal Roth Scholarship Endowment. Funds raised for the endowment will support student scholarships at Saint Martin's.
Overall, it's been an exciting first 80 years. Outside of work, Abbot Neal enjoys cooking, baking, bird watching, reading, and walks, often with Malvey. "I hope to maintain good health so that I can continue to support our mission and to serve in any way that I can," he continues. "Psalm 90 says 'The length of our days is 70 years or 80, if we have the strength; yet their span is but trouble and sorrow, for they quickly pass, and we fly away.' This sounds a bit morbid but it is also a reality. Our founder, St. Benedict, says to keep death daily before our eyes. In other words, make each day a positive both spiritually and fruitful in service to others."
Many things have changed since 1938 but on the grounds of Saint Martin's University, there are timeless gems like daily monastic prayer services, gorgeously carved Stations of the Cross and statuary artwork, and the life-long passion of Abbot Neal Roth for the community and Saints in his charge.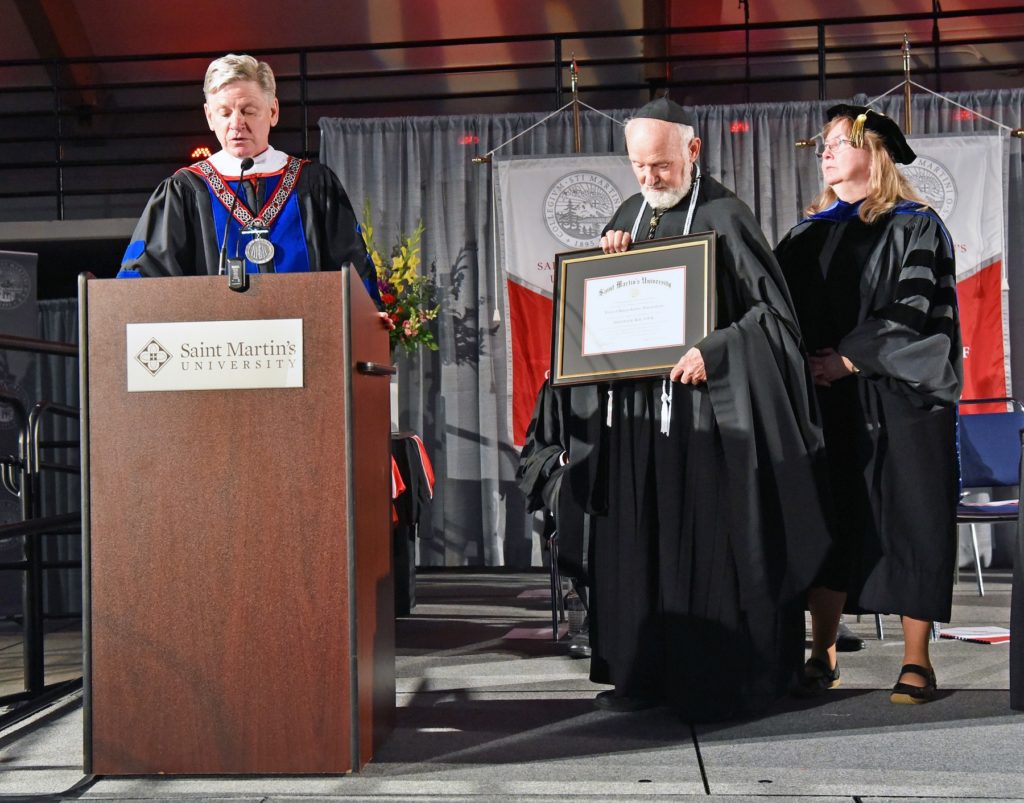 About Saint Martin's University
The greater community, including prospective college students and their families, are always welcome to visit the campus. Individuals and groups can schedule guided toursby calling 360-491-4700, or visit the grounds at 5000 Abbey Way SE in Lacey at any time.
Learn more about the Abbot Neal Roth scholarship endowment on the Saint Martin's University website or contact Katie Wojke at kwojke@stmartin.edu.
Sponsored