Hot days and lazy afternoons, swimming pools and popsicles. These sunny pictures sum up summer with a smile. That and, of course, vacation! What summer months would be complete without a trip or two? The Popinjay in downtown Olympia is home to fashion, fun, and LOTS of chocolate. Among their treasures is a large collection of items sure to make your summer travels easier, more comfortable, and add a bit of excitement wherever you may be headed.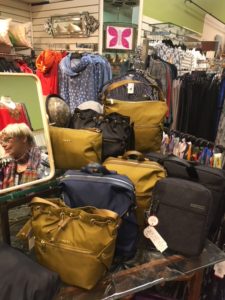 Ready to pack your bags? The Popinjay has just what you need. Their collection of light-weight suitcases are sure to make your packing and travel a breeze. At only seven pounds, these hard shell suitcases will fit in any overhead compartment. They each feature a TSA approved lock. And, just for fun, they come in funky colors!
Need something for when you're out and about? Check out Popinjay's newest travel savvy collection from Baggallini. Not only are these bags the perfect size for everything you might need for sightseeing, they are anti-theft with innovative slash-proof fabric. They can't be cut or destroyed, making a "grab and run" scenario non-existent. Their locking zippers prevent pick-pocketing. And the material is lined with RFID theft protection, keeping your ID and credit cards electronically safe. Of course, they are also very fashionable.
Looking for something a little smaller? They also have a variety of small crossbody bags that will fit right under your jacket, perfect for carrying just the bare essentials. Passport covers and wallets in a variety of colors and patterns that really pop will never get lost in your bag. And all of these are RFID protected. Alongside these are some amazing and surprisingly light weight genuine leather backpacks, perfect for all of your day tripping needs.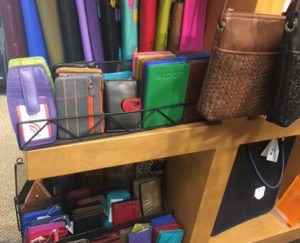 Let's not forget men as they travel! Right at The Popinjay's counter is a display featuring front pocket wallets. That's right – no more sore backsides as you travel! These cool wallets are made from either bison or moose leather and are perfect for keeping your possessions safe…not to mention feeling much more comfortable.
Speaking of comfort, are you interested in a little added comfort for your long plane, train, or automobile rides? A Trtl Pillow (AKA Turtle) is just what you need! This cozy neck wrap is specially formed to cradle your neck and jaw. Imagine falling asleep totally relaxed and supported while still sitting upright. And you wake up without a crink in your neck!
Do you know what to wear? When you're traveling, there's nothing like wrinkled clothing to crumple a whole day. But at The Popinjay, you can find an assortment of travel friendly wrinkle-free clothing that will make your trip smooth. Whether you are drawn to bright, flowy floral patterns or cool, solid dark items, you are sure to find something that will survive your whole trip tucked away in a suitcase and be ready for a night on the town in an instant. And these fabulous pieces are made right here in the US.
We all know traveling can feel a little bit chilly, no matter how warm your destination may be. A cozy duster from Barefoot Dreams solves this in a heartbeat. The buttery soft material is like a cloud. You can totally imagine wearing it out and about, looking great, or cuddling up inside it like a blanket while sitting in a plane or car.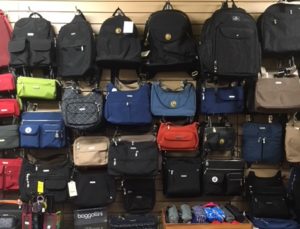 Your carry-on is for more than just clothes, however. The Popinjay also has everything you need for overnight trips. Grab a Slim sonic toothbrush, complete with an adorable travel case, battery that will last for months, and extra toothbrush head. Or a nifty lint roller that fits right in your bag and twists up like a lipstick. And don't forget a cute microcloth or popular Peeps eyeglass cleaner. Need some new sunglasses or readers? Well, at The Popinjay, you can get either – or both! They even have fun sunglass readers so you are set for a day by the pool.
Of course, no day by the pool is perfect without a good book and a cold drink. Here, you can find a fun assortment of books that are sure to entertain and educate. And their water bottles are designed to keep drinks hot or cold for up to 12 hours.
Traveling somewhere that is more wet than sunny? Look no further than Popinjay's rain slickers, some of which are designed to fold right into their own pockets. Not to mention their classy water repellent capes.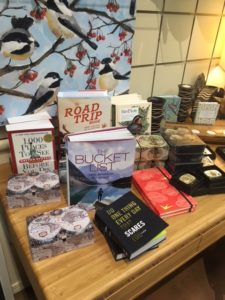 To top off your travels, don't forget to take a little piece of home with you. From hats and sweatshirts to coffee mugs and bookmarks, The Popinjay has loads of Olympia and Washington clothing and swag. These items are great conversation starters during your travels and great gifts for your friends.
This summer, wherever you go and whatever you do, The Popinjay is sure to have something just for you. Drop by South and say "hi" to owner Janis and her cute dog Scamp!
The Popinjay
414 Capitol Way, Olympia
360-352-9841
Monday – Saturday: 10:00 a.m. – 6:00 p.m.
Sunday: 11:00 a.m. – 5:00 p.m.
Sponsored