Downtown Olympia is filled with unique and thriving small businesses. From restaurants and bars, to retail shops that sell a variety of merchandise, to service businesses that deal in trades like accounting or computer skills, local patrons and visitors can find whatever they need downtown. But what happens when that business is in need of help. Who can they turn to for advice?
Downtown Business owners needn't fear. Our community has a wealth of support for new and small business owners. One form of support for downtown businesses is provided by Christine Buckley, Business Coach Washington Center for Women in Business, a resource partner of the Center for Business and Innovation at the Thurston Economic Development Council (EDC). Christine's service, which is made available to any business in downtown Olympia, is made possible through a partnership with the Olympia
Downtown Alliance and the City of Olympia.
Christine provides one on one coaching, confidentially, to any downtown business owner. Regardless of the business type, Christine can offer valuable insights that can help business owners in the unique downtown setting.
Sometimes entrepreneurs come to Christine with a problem. "Perhaps they have seen a slump in sales, and they want to look at possible causes and solutions," she says. Christine can work with her clients to assess their situation and recommend steps they can take.
Other times, business is going great. Christine still recommends that businesses contact her. A second pair of eyes looking over things can be a valuable tool to keeping everything running smoothly.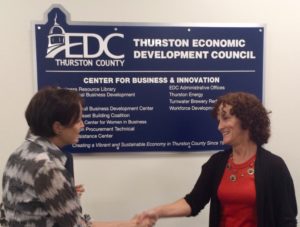 Businesses that are currently considering opening up in the core of Olympia or are considering an expansion into downtown can benefit from Christine's services as well. "I urge them to contact me before they sign the lease," says Christine, "that way I can help them find the right location to fit their unique business needs." Getting them off on the right step is her goal.
If Christine is not able to help the client directly for their particular situation, she can often refer them to someone else that she works with at the Thurston EDC or get them in touch with a business service that they may be looking for, like an accountant, lawyer or insurance agent.
Christine is able to offer flexibility about meeting with clients. She says many business owners prefer to meet at their place of business, where Christine can assess the physical layout and location. It also saves the client travel time away from their business. But they are always welcome to meet at her office at The Center for Business and Innovation.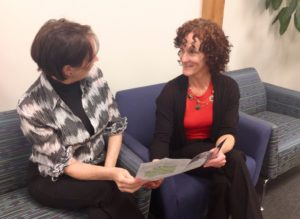 Funded through a community block grant through the City of Olympia, this service is provided free of charge to all downtown business owners. But Christine urges entrepreneurs not to wait to use her services, as funding for programs may change over time.
To schedule an appointment for one-on-one coaching with Christine, call 360-464-6060, or send an email to info@downtownolympia.org. You can also get more business information on the Thurston EDC website.
Sponsored