It's lunchtime on a Tuesday at the Super Buffet in Lacey. The cool dining room suddenly fills with a surge of diners. Employees restock the buffet, making sure each tray is filled with fresh offerings for every customer. "It is nice for lunch," says Rebecca Lei, cashier at Super Buffet, "customers that don't have much time to eat can come and not have to wait for someone to take their order."
Of course, it might take lunch-goers some time to decide what to eat. With 150 options to choose from at the all-you-can-eat restaurant, they could have lunch there every day for a month and still find new things to try. Rebecca says they will find many traditional Chinese favorites like sweet and sour chicken, beef and broccoli, fried rice, and several types of noodles. The fried shrimp is a very popular choice, along with many other seafood items like clams and oysters.  The restaurant also boasts an expansive sushi bar, prepared and rolled fresh on site every day. For dinner and on weekends, additional seafood is offered, including the customer favorite fried Dungeness crab.  On holidays, the restaurant even serves lobster.
Super Buffet has been in Lacey for over a decade, but Yun Sun has only been the owner for a few years. Originally from the Fujian province in China, Yun's employees say she works hard at the business. She is there every day to make sure things are running smoothly and delicious food is getting put out regularly. "I want to serve the best Chinese Food in the South Sound region," says Yun. She does that by taking customer feedback very seriously. When she took over the restaurant, she responded to customer input. That included preparing the food more often in smaller portions, so that it can be fresh for every customer that walks in the door. It takes more work refreshing the food, but customer satisfaction matters to Yun.
On top of the usual Chinese food favorites, Super Buffet offers an expansive salad bar, flavorful soups, and a few American favorites like pizza and onion rings. Steamed buns of many types are stacked artfully. They also have a Mongolian grill for patrons that want to customize their meal, and have it freshly prepared before their eyes. Customers can finish up their meal with one (or a few) of the tantalizing dessert options, like pastries and sponge cake, to satisfy every sweet tooth.
To wash everything down the Super Buffet serves a large selection of beverages including juice, milk, hot and iced tea, and a variety of Pepsi products provided by L&E Bottling Company. "The customer service L&E provides is very important," says Rebecca, "we switched from a different beverage distributor, and we are so glad we did." The representatives at L&E Bottling Company are responsive and helpful, she adds.
Their location right off Interstate 5 in Hawks Prairie is an ideal location for customers to stop and grab dinner after work. "Many customers come in and order food to-go and take it home," Rebecca says. The many offerings are available at a reasonable per pound price when taken to-go, and makes a great option for those that don't want to cook at the end of a long day.
Super Buffet also has party room that can be reserved for birthday, anniversary, and graduation parties, retirement celebrations and weddings. It also makes a great venue for work meetings, conferences, and presentations. The room comfortably holds 90 guests and features a 65-inch smart television. The restaurant recently hosted a home buying class for local military veterans and also a family financial planning workshop.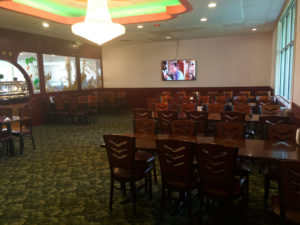 Catering options are available as well. Customers can simply call to order large or small trays in advance filled with their favorite menu items.
They offer affordable lunch and dinner pricing, children's prices based on age and discounts for seniors over the age of 65-years-old. For parties of 20 or more, please call ahead to make reservations. You can also like and follow the Super Buffet's Facebook page.
Super Buffet
Galaxy Dr NE, Lacey
360-491-8881
Sponsored