In starting her business, Ila's Foods, Debra Kilcup attributes her ability to create a thriving business to the support she received from her community. Coming from a family that values generosity, and feeling a deep gratitude towards the local community, Ila's Foods strives to give back to the community as much as possible in an attempt to foster a climate of charity and giving.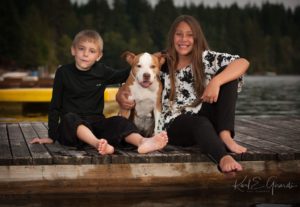 Since the very beginning of Ila's Foods, Debra and her family agreed to donate 10 percent of their proceeds to charity. They choose to give to a variety of organizations, but the groups that often receive their donations include Union Gospel Mission, American Cancer Society, Lion's Club International, and The ALS Foundation. Debra says that amount they chose to give to charity was inspired by the tithing system described in the Bible.
Some of Debra's passion for community involvement and giving comes from her own family's experience with hardship. When her daughter, Renee Kilcup, was 7-years-old, she was diagnosed with terminal cancer. Against all odds, Renee overcame her diagnosis, and since then, cancer has been an important issue for their family. They participate in the Relay for Life event, and donate to many cancer organizations.
Foods for Causes
Aside from a percentage of their proceeds, Ila's Foods also has created three lines of fundraiser products. The proceeds from these themed food items are donated to a specific charity cause.
Renee's best friend, Tabi, was diagnosed with cancer as well, shortly after giving birth. Debra wanted to provide support for her daughter's best friend in some way, which led to the creation of Tabi's Strawberry and Mango Tango Jam, their first fundraiser jam. All of the proceeds from Tabi's Strawberry and Mango Tango Jam went to Tabi and her family during her fight with cancer. Now, proceeds continue to serve the greater community by going to the American Cancer Society.
Another popular fundraiser product to come from Ila's Foods is Burgess Butter. When Debra's brother, Rick Burgess, was diagnosed with ALS, Debra launched a fundraiser, where she combined two of her brother's favorite flavors, chocolate and peanut butter, to create a product that could generate funds to donate towards her brother's fight with ALS. Upon having a family member with this condition, Debra became familiar with the nuances of his diagnosis. A particularly difficult aspect for her brother was needing to eliminate dairy from his diet due to ALS. Debra tells me that she hadn't previously realized how many food products contain dairy, which motivated her to make Burgess Butter, along with other products, dairy free.
Debra recalls how her brother embodied their family's values. "His mission was one of peace, forgiveness, love, and family," she says. After Rick's passing, Ila's Foods continued Burgess Butter, and now donates the proceeds to The ALS Foundation.
"I'm always open to doing these kinds of things," says Debra of her fundraiser products. "There's not much point in being in this world if you can't make it better and give back."
When Debra's daughter, Renee, started coaching Timberline High School's Special Olympics Unified basketball team, Debra realized that not enough funding was provided for the team for supplies such as basketballs and uniforms. She designed a line of jam with the intention of donating the proceeds to the team. Blazer Spirit Jelly, a delicious apple-lime jelly, has helped the team head to Seattle for nationals this year. "It's been an amazing adventure with these kids," Debra says. "I've witnessed incredibly strong relationships form between the teammates, it's just wonderful."
Giving: A Family Legacy
Debra feels as though her value of giving was instilled in her by her family. As a child, she recalls her father opening their home to the community, especially disadvantaged members of it, for holiday meals such as Thanksgiving and Christmas. "He certainly bestowed a lot of love on people," she shares. "It was sincere and honest. I think that's where my brother comes from too."
Debra continues to express her values through her actions and business practice in hiring. She makes a point of hiring employees without judgment, and strives to create a positive, inspiring, and accessible work environment. Empowerment through employment is a strong value that Ila's Foods makes sure to practice.
Giving back to the community is a large part of what has made both Debra's personal life and business what it is now. She tells me that she has been amazed by the charity of others that she has experienced in her lifetime, and finds importance in continuing the cycle. "I believe that whatever you give comes back in another way," she shares.
To purchase any of the fundraiser products, stop by anywhere Ila's Foods is sold, shop online at the Ila's Foods website, or stop by the kitchen at 8036 River Drive SE, Suite 204 in Tumwater.
Sponsored