Exciting drink specials and events are happening at Drip Espresso Bar as the local business will be celebrating its third year anniversary this June. Every year Drip has a big customer appreciation/anniversary celebration for one day in June that includes a coffee basket raffle, free pastry samples, customer giveaways and more. This year's event date is yet to be determined but will be announced on their Facebook page in the coming weeks.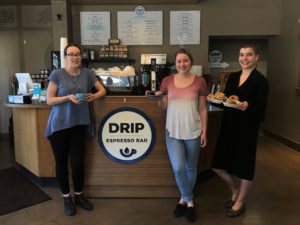 Drip Espresso serves Batdorf & Bronson Coffee and makes exclusive Drip Company homemade pastries and gluten free baked goods in house. Popular gluten free bakery items include a carrot cake donut, Macarons by Mel made with almond flour, and a signature raspberry oat bar.
The baristas are known for their creative monthly drink specials. For the month of June, customers can look forward to a honeycomb iced latte (homemade honey-vanilla syrup, milk and toddy shots), a tropical chai (coconut syrup and organic chai), the lavender luna (lavender white chocolate mocha), and the desert sunset iced tea (desert pear syrup & tropical sunset tea).
The latest beverage to come to Drip originally hails from Japan. Matcha is a powdered tea made from ground Japanese green tea leaves and is known for its unique, but pleasant, taste and renowned health benefits, including high levels of antioxidants and a natural boost of caffeine without the crash of traditional coffee.
Lead barista, Jennifer Harrington, came up with the idea to bring matcha to Drip when she realized the delicious beverage was nearly impossible to find in Olympia. It wasn't until Drip owner Robin Vaughn went on a recent trip to New York City and found that matcha based drinks, ice cream and other tasty treats were readily available and insanely popular that she decided she needed to bring it to Olympia.
"This is something that's a little more unique that is hard to find in Olympia," Vaughn says. "We tested it out and customers loved it."
Vaughn says being receptive to customer wants and open to staff suggestions has allowed the menu to evolve and double in size since opening in 2015.
"We want to appease our customers and also try new things and be a little different," Vaughn says.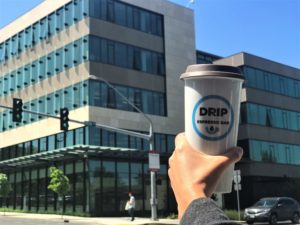 Harrington recommends almond milk with any of the matcha beverages and is the brains behind the organic matcha chai – a heavenly combination of black organic chai tea with green matcha tea from Mighty Leaf.
A Place for Collaboration and Coffee
Positioned on 1018 Capitol Way in "uptown" Olympia has provided a unique advantage for Drip, as it is the only espresso bar with meeting space in the area surrounded by government and office buildings. The Helen Sommers Building, kitty corner to Drip, has created a huge boom for business since construction was completed end of 2017.
"Since that building has opened we've definitely seen an increase in foot traffic," says Vaughn. "We're getting a new customer base and new regulars, which has been exciting for us. We're happy that it's finally finished and to see the results of that."
Vaughn wants to remind business owners and professionals in the area that Drip does have a conference room table with 12 chairs in the back area that can be reserved for free or on a first come first serve basis for customers. As well, 96-ounce coffee carafes can be ordered ahead of time, along with large pastry orders for meetings and events.
Drip will also be starting a "Friday Happy Hour" every Friday from 2:00 p.m. to 4:00 p.m. starting May 25 with all homemade pastries priced at 50 percent off.
Find out the latest from Drip Espresso Bar by visiting and liking their Facebook and Instagram pages.
For reservations, coffee orders and questions, call or text 360-870-5204 during operating hours, Monday thru Friday, 6:30 a.m. – 4:00 p.m., or email drip.espresso.bar@gmail.com.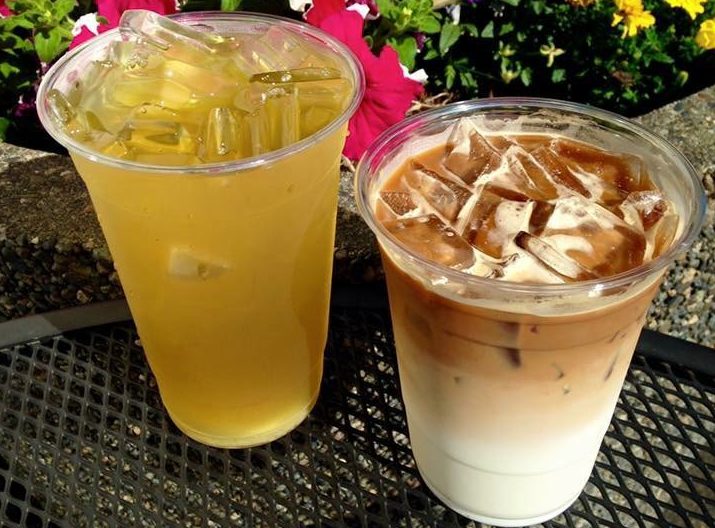 Sponsored