In high school, many students often express themselves through creativity and learn of their passions for writing, arts, poetry and many other creative pursuits. The literary magazine at Olympia High School tries to capture all the students' creativity and display it in one place for others to see.
The literary magazine is operated as a club and gets its funding from the school, as well as things it does on its own like participate in the school's Bearzaar. The magazine has the inner workings of a published magazine all in the time of one hour a week sometimes not even that. The operation is run by Miss Gilman, who is the advisor, and co-presidents Emily Hoppe and Maisy Maclay. The club is divided into sections such as editing, layout and submissions. At the end of the school year, they produce a magazine full of students' artwork and writing.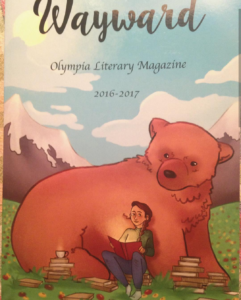 The youth of Olympia High School has many different creations that might go unnoticed if it weren't for the literary magazine, which is something that co-president Maisie Maclay thinks is important about this club.
"I think that the literary magazine is important to OHS because there aren't very many opportunities for student artists and writers to exhibit their work," says Maisie. "It's a really valuable experience and being a published artist/writer is a great thing to put on any resume."
Students who are published in the magazine get a free copy to see their published work for years to come and even put it in their portfolio for colleges or jobs. Those who don't get published in the magazine can usually buy it for around $10 at the Bearzaar of the following year, at Arts Walk or at Orca Books. The club also sells books personally to those who get in contact with members, which anyone can do through the email olyliterarymagazine@gmail.com.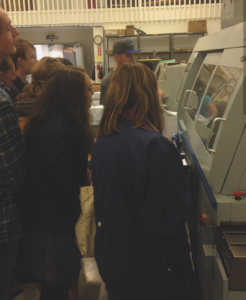 Not only is this a great experience for those who can submit to the magazine, but it also is great for those who choose to be a part of making it. There's such a variety of students in the club and this matches the variety of works that they take in. Students in literary magazine learn what it takes to make a magazine start to finish. They help choose pieces, edit and figure out what the book will look like when it's done. Members also take a trip to their publishing office to see even more behind the scenes of what it's like to work on a magazine.
Some teachers find this process so enriching to students and helpful to their learning that they make it a mandatory assignment to submit a piece of art or writing to the magazine. Art teachers and English teachers find that submitting a piece of creation to the magazine can help students try and improve their work. Students turn in a piece that they had worked on throughout the year to try to get it published and are given credit for turning in a piece to the magazine. Many other students choose to submit all on their own.
The magazine is meant to bring together the work of students and make them proud of something that they have accomplished on their own. It's also supposed to inspire other people to try and make something that they are proud enough to publish. The magazine is an important part of Olympia High School that does everything it can to push students and help them to accomplish becoming a published artist or writer.
Emily Hoppe adds, "Without the magazine, a lot of these amazing pieces would go completely unseen and unappreciated, but not only are they on display, the students who made them get to have a moment of 'maybe my hobby is worth something, maybe someone really likes what I do.' And that's an incredibly important feeling."