Visit any SCJ Alliance office in the South Sound and eventually you'll hear it: the gradually accelerating click, plop noise indicating that somewhere in the building, a ping-pong game is in progress. "I love hearing that sound," says Amy Head, Lacey Office Principal. "It makes me happy."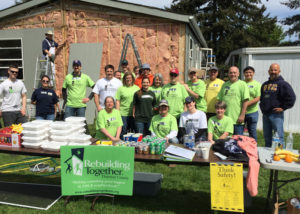 Happiness is a word you'll hear a lot from SCJ employees, along with terms like "engagement," "trust," and "work/life balance." By all accounts, the civil engineering and design company is a great place to work. But that's not all. In 2017, SCJ won three major awards from the Zweig Group, the nation's leader in enhancing business performance for architecture, engineering, planning, construction and environmental consulting firms. SCJ was recognized as the Fastest Growing, Best Firm to Work for and for Marketing Excellence.
"Only eight firms in the nation have been recognized in all three categories, so it gave us pause," says Jean Carr, Principal and co-founder. "How are we successful with both our workplace culture and our bottom-line? Intuitively, they go hand in hand. You won't be financially successful if your people are unhappy and turnover is high. Great outcomes require great people who are engaged and happy at work."
At SCJ, that process begins with hiring for character and personal interaction traits rather than technical skills. "We need to hire for fit with our personality and culture," says Head. "Everything starts there." Once hired, employees are supported in working with their strengths. "The data shows people have several times more potential for growth when they invest energy in developing their strengths instead of correcting deficiencies," says Carr.
Currently, the company has more than 80 staff. Within the first 3 months, the leadership team does a 90-day check in with new employees to see how they're doing and what support they need to be successful and reach their professional development goals. Managers or supervisors continue to check in on a regular basis.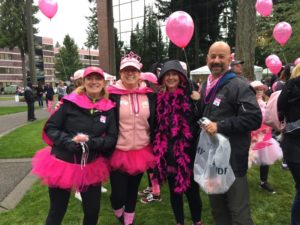 Another key is developing strong relationships within the workplace through time spent on non-work activities such as game nights, clam digging, book clubs, walking groups, camping trips and much more. "We make a concerted and intentional effort to provide opportunities to get to know each other as friends," says Carr.
And then there's ping pong. SCJ's Lacey and Centralia offices have a table set up in a common area where members of different departments can gather to blow off steam and take their mind off work for a while. "We have a work hard, play hard mentality," says Brandon Johnson, Principal and Civil Engineering Manager at the firm's Centralia branch. "We produce a lot of work and everyone understands how daunting it can be to have three or four huge tasks on your plate. Throughout the week people can take a ten-minute break and play ping pong. Every Friday we go out to lunch to celebrate the week with pizza and beer."
Celebrations and gatherings are ongoing and often involve food, says Head. "You know how they talk about the Freshman 15 when you start college?" she laughs. "Here we talk about the new employee 10. We feed you a lot." Monthly birthday celebrations, a table where anyone can put out communal food to share, tailgate parties and other events are a regular part of the culture.
Getting to know people outside work creates a more productive environment, according to Johnson. "You learn to interact and trust people a lot more when you're hanging out with them in a non-work environment," he says. "If someone needs help, people are so much more willing to step in. We collaborate so everyone gets their work done."
SCJ is also very family-friendly, Head notes. As a single mother of three, she needs to start work at 9:00 a.m., a rarity at the senior management level. "Everyone here has a unique schedule," she says. "People come in and we work with what they need. Everyone has a life outside of work." She began with the company in 2008, when it was still a new and relatively small organization. On May 16 SCJ celebrated its 12th anniversary.
The approach creates an environment where people want to be more productive, not less says Johnson. "Employees feel like they're part of something special and unique and they want to work harder and help look for the next person that fits," he says. "It's a culture that breeds goodness.
Employees have taken the company's ethos to heart, initiating projects like game clubs and  after hours group socials, as well as joing together for volunteer activities such as  Breast Cancer Walks and Rebuilding Together Thurston County. "This approach makes everything better," says Head. "It boosts morale. People like being here."
One sure sign: at the end of the day, most offices clear out quickly, but not SCJ. "Our staff could leave and go home at 5:00 p.m.," says Head, "but they're still here playing ping pong."
For more information, visit the SCJ Alliance website or call 360-352-1465.
Sponsored