Heather Wilson, Food and Beverage Manager at Olympia Country and Golf Club (OC&GC) looked around the restaurant during the noon hour one day in 2017 and she just knew that they were missing an opportunity. There were plenty of members enjoying the more traditional club sandwiches and cobb salads that have been standard fare for years, but she felt that they could do better. "I knew what a great Chef we had in Juan Gomez and we were missing an opportunity to share innovative and delicious food," shares Wilson. Heather knew firsthand what Juan was capable of in the kitchen. Partners in work and life, they have been side by side in the restaurant business for years.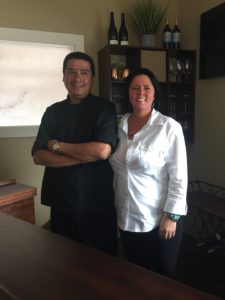 Juan Gomez is from Durango, a mountainous region in Central Mexico. Gomez learned how to make traditional Mexican food from his grandmother as a young boy. "We lived in a very rural area and there was not always much food," shares Gomez. His grandmother taught him how to make delicious meals from the supplies that were available. "We always had tortillas and roasted chiles," says Gomez. He learned how to make what Wilson claims is "the best Chili Rellenos" in the world. Juan's grandmother told him that someday you be alone and you will have to cook.
A few years later he was alone in Sante Fe, New Mexico washing dishes as he made his way up to cooking in a Sante Fe style restaurant before moving to Bellingham. Gomez ultimately found his way to Olympia and met partner Heather Wilson while working in local restaurants together. He began working at the Olympia Country and Golf Club as their head chef eight years ago. At that time, they were serving traditional club fare.
When Mike Campbell, general manager at OC&GC gave Wilson and Gomez the opportunity to revamp the menu they were thrilled. "I knew how talented Juan is and we wanted to create a menu that is food forward and more competitive with the other high-quality restaurants in town," shares Mike. The menu features Pacific Northwest fare along with trendier choices like rice bowls and street tacos. "The members have been very pleased at the wide range of choices we now offer in our restaurant Terrace on the Green," he adds. There is no better setting, sitting right on the golf course with the waters of Budd Inlet right in front of you.
Locally Sourced, Smartly Prepared
Juan's background has inspired him to use local, fresh available ingredients with almost no waste. He teaches his cooks how to chop vegetables and prep food so there is nothing going into the garbage. "I designed the menu so that the vegetables we don't use in the entrees on Monday will be used in the soup the next day," explains Gomez. Members appreciate this effort toward good stewardship and enjoy the delicious outcome of Juan's meticulous menu planning. Tuesdays "Tour of Mexico" dinners have become increasingly popular with members. Guests are treated to traditional Mexican recipes that Juan shares from his homeland in the Sierra Madres mountains.
"Mike understood what we could do, which gave us the confidence to showcase what Juan is capable of," shares Wilson. Together they have created a restaurant that members are excited to return to knowing there is a wide range of diverse options. Together they are providing even more convenience to their OC&GC members with family dinners to-go. "We noticed that Saturdays in the dining room could be slow," shares Wilson. She figured that people wanted to be home with their families and may enjoy an easy and delicious take out option. The monthly dinner to go menu is posted on the calendar. Members can order their dinners in advance and pick them up at the club for a delicious "home-cooked" family meal after a day of activities.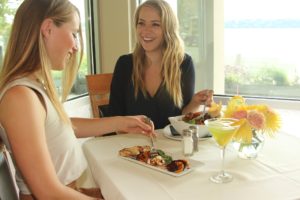 Heather grew up in her father's Oklahoma City steakhouse. "I have such fond memories of being in the restaurant as a child," she shares. She has recreated that family atmosphere at the club, where the employees often refer to Juan and Heather as "Mom and Dad."
Heather and Juan have over 25 years of combined restaurant experience and they have put that experience to work creating new innovative spaces at OC&GC, like the new exclusive martini bar. The space is newly decorated and will serve craft cocktails and small plates on Fridays and Saturdays throughout the summer. Club events include monthly wine tastings and family nights that include dinner and games. All of these activities are available to both golf and social members of the club. Poolside service is just around the corner when the pool opens Memorial Day weekend. For more information on the Olympia Country and Golf Club and how to join visit their website here.
Olympia Country & Golf Club
3636 Country Club Drive NW
Olympia, WA 98502
360-866-7121
Sponsored