Framed certificates and awards line every available space along the walls of Brian Stretch's classroom at North Thurston High School. A total of 40 banners can be found, one for each state champion Stretch has taught over the last 25 years in his automotive technology program at the school.
In the back office, among other items from the program's six decades of existence, you can find the 11 national medals students have received during his tenure.
"Tradition is big here," Stretch said during a walkthrough of the office.
His classroom is colored with evidence of just how true this statement is as he is quickly running out of room to house everything of importance. But he's not just talking about the abundance of recognition his students have received, which is prominently displayed on the walls and shelves.
Point anywhere in his classroom or in the adjacent fully operational garage and Stretch likely has an enjoyable story behind it – one with meaning and engagement about the individuals who have been members of the program.
Even the desks in his classroom have history.
"They have been in here for 50-some odd years," said Stretch, a 1979 North Thurston graduate who was also a byproduct of the program while he was in high school. "These are the same desks that were here when I was here."
Given the fact the desks' manufacturing company has long since been out of business, how exactly does one keep desks around a high school for six decades? Stretch, like he does with most questions asked in the class, has an answer.
"I have six desks in the back," Stretch says with a smile, "if we ever need spare parts."
Interestingly, there are three seniors in this year's advanced auto class – Josh Schmanke, Masie Vollendorff and Ezra Williams – who have ties to the aforementioned desks as each of their parents sat in the very same desks when they were participating in the program.
Josh's father Brian Schmanke was a 1987 North Thurston graduate, while Masie's mom, Julie Palm, and Ezra's father, Tom Williams, both graduated in 1995.
Among all the awards and accomplishments, it's the students Stretch values the most about the program's successful legacy.
"I have a lot of (former students) who come back just to stop by, especially ones from the advanced class," said Stretch, who is just the third teacher the North Thurston automotive program has had over its 63 years. "I think after they leave here, they still feel like they are a part of it. They've paid their dues and now they're one of us."
While it's not uncommon for former students to check back in every now and again, Stretch did say having a group of second-generation students in the program all in the same graduating class is a touch unique.
The school's automotive program has been around since North Thurston first opened its doors in 1955 with Ralph Hauser serving as the teacher until his retirement in 1982. After him, Andrew Nydam took the reins.
Tom Williams actually started in the program while Stretch was student teaching under Nydam. Once Nydam moved over to River Ridge in 1993 to teach science, the gig became 100 percent Stretch's. Palm joined in as a student the following year. Both couldn't encourage their offspring more into following in their footsteps.
"It was a pretty big inspiration," said Ezra Williams – who is one of this year's team leaders in the class – about wanting to be in the same high school program his father was in. "Plus, its knowledge I will have forever."
"One of the conversations we had before Erza started in the program was you will carry this with you for the rest of your life," Tom Williams added. "There's a lot of responsibility that comes along with being in this classroom."
But also a lot of positive memories for the returning students.
"Nothing has changed," Brian Schmanke said. "It's kind of like a shrine in here. It still smells the same."
While Williams and Palm both enthusiastically endorsed their children signing up, Schmanke tried initially to steer Josh in a different direction. It didn't work.
"I loved the program. It's why I do what I do for a living now," Schmanke said. "I've busted my knuckles for a while and I wanted Josh to do something different, but he went in and now he excels at it."
"It's really the things you learn and the people you hang out with that makes it fun," Josh said.
Masie became Stretch's 40th state champion in 2017 when she took the gold medal at the state competition in Yakima last year in Job Skills Demonstration-A. The program picked up two more state titles this year.
"My mom said, 'You need to have Mr. Stretch's class. Not just because Mr. Stretch is cool, but you need to learn these things,'" said Masie, who earned her state title last year while giving a 13-paragraph speech on how fuel injectors work while putting two injectors back together. "The best part is telling people what I do. They seem surprised at first."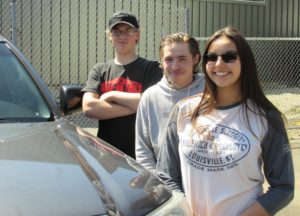 That is usually followed by the flood of car questions, which Masie now has answers for.
"The ability to take something apart and put it back to together," Stretch said, "there's a certain nobility to that only because first, so few people care to do that and second, not many people know how to do it."
North Thurston had six members of its automotive program compete at the state meet this year. All took home some hardware.
Nicole Anderson (Job Skills Demonstration Open) and Jake Stewart (Automotive Service) each placed in the top five, while Masie Vollendorff (Job Skills Demonstration-A) and Addison Demeire (Automotive Service) both earned bronze and Savanna Gilson (Customer Service) and Grace McLaughlin (Job Skills Demostration-A) each took home gold medals.
"I've never had a bad class. I swear to God on that," Stretch said. "I expect a lot more from my advanced class and this is an outstanding class this year."