We all have someone we look up to, as well as those who look up to us. Be a good example AND meet a Seahawk all-star thanks to the dedicated, passionate, charitable, goofball staff at The Olympia Furniture Company on the west side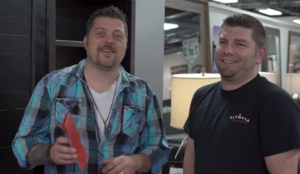 Through early June, The Olympia Furniture Company is holding a hygiene supply drive in partnership with Guild Mortgage. The two have worked together before on a teddy bear drive and other community donation goals. Each business is attempting to fill barrels with household and sanitary items many of us take for granted. Things culminate on Saturday, June 2 with a 'Fill the Truck' event at The Olympia Furniture Company's showroom to benefit several local organizations and charities.
If you bring a donation of socks, deodorant, shampoo, or other often-requested toiletries, The Olympia Furniture Company team will provide no-charge local delivery of any furniture purchase over $1000 through June 2. Items collected will be distributed to SafePlace Olympia, Senior Services for the South Sound, the YWCA of Olympia, the Family Support Center of South Sound and the Olympia School District.
What to Donate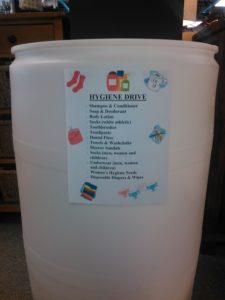 Not sure what's needed most? SafePlace's domestic violence shelter offers an online Wish List that includes items such as gift cards for local gas stations, grocery stores, restaurants, and bus passes. They also need travel-sized shampoos, soaps, and (preferably unscented) lotions for adults and children.
The YWCA hosts the Other Bank, which helps nearly 15,000 people annually. Their Wishlist contains toiletries and soaps but also diapers (in all sizes) and baby wipes, laundry detergent, dish soap, shaving cream, and razors.
The Family Support Center's child abuse prevention team compiled a Wish List for donation drives too. Theirs asks for disposable housewares like paper plates and plastic silverware as well as garbage bags, lice detection and removal kits, antibacterial wipes, and infant formula.
Meet Seattle Seahawk Cliff Avril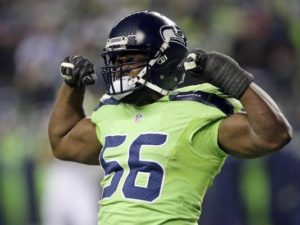 On Monday, May 21, bring your donation to a free meet-and-greet with former Seattle Seahawk Cliff Avril. He'll be signing autographs at the Olympia Furniture Company from 6:00 to 8:00 p.m. on a first come, first served basis. A donation to the hygiene drive is required and no selfies will be allowed, though there will be a photographer on site.
Avril is the sixth Seahawk hosted by owners Eddie Nelson, Allen Starkey, and their team. "Avril's a two-time NFC champ, played in the Super Bowl, and one of the best defensive ends we've ever had," says Starkey. Though the visiting Seahawk players rotate, "Every one of these players have helped us," agrees Nelson.
Outside of this event, Olympia Furniture Company regularly teams up with Arsenal Promotions on nights like the upcoming Celebrity Basketball Game on Saturday, June 16. Arsenal owner Michael Goff greatly enjoys working with Nelson and Starkey. "It's been a great partnership for nearly five years," he says, "I love to work with a local business to give back to the community."
If you prefer to hear it from the proverbial horse's mouth, let Nelson and Starkey convince you to help, in their own words. Find fabulous video encouragement online (as well as other delightful snippets of life in their never boring showroom, highlights from the Las Vegas furniture show, and while hosting booths at the Spring Fair in Puyallup).
Know that the May 21 event will likely draw a large crowd so come early. Their recent visit from Tyler Lockett saw more than 2,000 people standing in line around the store and grounds.
Actor Dennis Quaid once said that "There are three things being a celebrity is good for: raising money for charity, dinner reservations, and tee times." Save restaurants and golf for another day and come help Olympia Furniture Company prove him right (on the first part, at least).
The Olympia Furniture Company is located at 2302 Harrison Avenue NW and has furniture, rugs, mattresses, bedframes, artwork, and outdoor items galore. Visit them from 10:00 a.m. until 7:00 p.m. Monday through Saturday and 11:00 a.m. to 6:00 p.m. on Sunday.
Explore inventory on their website or follow the team on Facebook for new arrivals, specials, promotions, and events. Contact them at 360-338-0638 with questions.
Sponsored