Even though Olympia really is famous for its copious amounts of rain, there are many things that citizens like to do in the spring as the weather begins to dry out. With spring already here, people are looking for things to do to make most of the nicer weather. Whether indoors or outdoors, here are some of the most popular ways to enjoy spring in Olympia.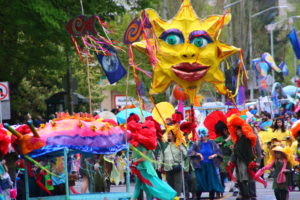 Procession of the species is a event in which people dress up as animals, bugs and other things from the natural world. Many people enjoy this festive event, which is held downtown once a year during spring. Downtown is colorful by itself, but Procession brings dancing, costumes and non-motorized floats. Another thing that people really enjoy about this event is how inclusive it is. Pretty much anyone can take part either by dressing up or even just walking along with the Procession. Some of the most impressive aspects are all the coordinating and moving parts. There are many groups that dedicate a lot of time to choreographing dancing, music and spectacular costumes for this event. When the finished product makes its way through downtown, it's tough to miss. Junior at Olympia High School Abel Shackleford especially enjoys it: "The floats are my favorite part. It's so great to watch it with my friends and see all of the creative floats drive by."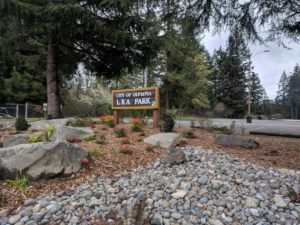 Hiking
There are so many places in Olympia where you can go to enjoy some scenery. Hiking is available all year round, but is especially great when it's not pouring rain outside. The Olympia area is home to many parks and trails, including routes with waterfalls such as Tumwater Falls Park, or those with a canopy of trees like Watershed or LBA Park. You can even enjoy a circular walk around Capitol Lake and a zig-zagged hike up to the Capitol Campus. Hiking is an easy way to experience the wide array of Washington's plant life while getting fresh air.
Shopping Downtown
Downtown is always fun, but it's best when the weather is warmer. Downtown Olympia is home to so many unique stores that you can't find anywhere else. Walking while window shopping is a great way to spend hours with friends, according to Olympia High School student Claire Arbaugh: "I love going downtown with my friends when it's nice out. It's unique and always interesting to see all the stores."
Capitol Campus
The Capitol Campus is another scenic place to spend some time. In spring, flowers are in bloom and you can see the campus gardens in their full glory. Flowers are abundant in Thurston County and this is most visible in the Capitol Campus gardens. Even if you don't particularly care for flowers, the campus is filled with fountains, memorials and the breathtaking Capitol itself. "It's so nice to walk around Capitol Campus and see all the cherry blossoms," Abel Shackleford adds.
As you can see, there are many things to do in Thurston County during spring. And even if none of these things are for you, you can at least take part in your favorite winter activity in a new light!