Submitted by Saint Martin's University
During the Saint Martin's University 2018 Commencement on May 12, 2018, the University will award honorary degrees to Barbara and Virgil Clarkson, educational advocates and community and civic volunteers, for their commitment to education, equality and the community, and to Abbot Neal Roth O.S.B. '65, abbot of the Saint Martin's Abbey, chancellor of Saint Martin's University and member of the Saint Martin's University Board of Trustees, for his lifetime commitment to the mission of Saint Martin's and his devotion to living the Benedictine values and bringing them to the community. The Clarksons and Roth will be recognized as doctors of humane arts, honoris causa.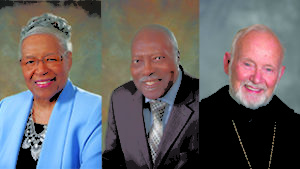 "It is with great pleasure that we recognize three outstanding community leaders this year," said Saint Martin's University President Roy F. Heynderickx, Ph.D. "The Clarksons and Abbot Neal exemplify many Benedictine values, most importantly the significance of community. Over their lifetimes they have instilled a true sense of community in the greater South Sound region. We are all enriched by their decades of service and we remain thankful for their enduring leadership."
Barbara Clarkson has been involved with community volunteerism for most of her life. Clarkson has served as a member of the South Puget Sound Community College's Board of Trustees for 14 years. She devotes her time to many professional and community organizations in the area, including Thurston Thrives, a community health organization, Lacey Sister City Association and others. She has served as past president of the Ladies Elks, Olympia Elks Lodge #186, past president of the Kiwanis Ladies Organization of Olympia and past vice president of the Olympia branch of the Tacoma Urban League. She also served on the facilities committee for the North Thurston School District.
Clarkson graduated from the University of Washington with a degree in sociology with an emphasis on criminology, attended Southern University in Baton Rouge, Louisiana, where she studied secondary education and pursued additional studies in education administration at the University of Washington. She worked for the Washington State Department of Community Development, the Plans and Preparedness Division of the Washington Emergency Management Division and the State Board for Vocational Education. Later, she worked with Opportunities Industrialization Center (OIC) of Washington, a non-profit organization that provides community services, and retired from that organization in 2001.
Virgil Clarkson served for 19 years on the Lacey City Council and, during that time, served as mayor for four terms and deputy mayor for two terms. From 2003 – 2006, he was the regional director for the National Black Caucus – Local Elected Officials, serving the states of Alaska, Wyoming, Idaho, Oregon and Washington. He has completed the Association of Washington Cities local government certification program and the National League of Cities certification program for small city administration. He is a current member, and past chair, of the board of directors of the Community Action Council for Thurston, Mason and Lewis Counties. He has served as a member of the board of directors and as treasurer for the Together Organization, which works to advance the health and wellbeing of young people, and a board member for Senior Services for the South Sound. For 20 years, he has served as co-chair for the Selective Service System, local board # 26, which services Thurston, Mason and Lewis Counties. Clarkson has been a member of the Kiwanis for 50 years, a member and past treasurer for the Fred U. Harris, Prince Hall Masons, Lodge #70, a member and elected exalted ruler for the Benevolent and Protective Order of Elks, Lodge #186, and past vice president for the Olympia Chapter of Blacks-in-Government. He has also been involved with the American Diabetes Association for 23 years and has served that organization at the local, state, regional and national levels.
Clarkson graduated from Texas Southern University in Houston, Texas, with bachelor's degrees in mathematics and physics. After graduation, he served for 14 years in the Army. Later, he studied public administration at Pacific Lutheran University and law at the University of Puget Sound. He worked at the Washington State Department of Natural Resources and the Washington State Department of Transportation.
Both Barbara and Virgil Clarkson have been involved for 23 years with the Thurston Group of Washington State, an organization that assists youth in furthering their vocational and college educations, and that has helped more than 800 students enroll in college and acquire over $6 million in scholarships. They have hosted the Dr. Martin Luther King, Jr. Banquet annually for the past 18 years, and for the last four years in partnership with South Puget Sound Community College. The Clarksons are also founding members of the Black Alliance of Thurston County, an organization that aims to change Washington's deadly force statue and works to end systemic racism.
Abbot Neal Roth O.S.B. '65 entered St. Martin's Abbey as a candidate in June, 1957. After graduating from Saint Martin's College in 1965 with a bachelor's degree in education, he joined the faculty at Saint Martin's High School, where he taught English, journalism and drama from 1964 to 1972. He pledged solemn vows and became a full member of Saint Martin's Abbey on Jan. 22, 1967.
Abbot Neal received his master's degree in education with an emphasis in English from the University of Portland in Portland, Oregon, in 1970 and his master's degree in divinity from Mount Angel Seminary in Mount Angel, Oregon, in 1975. After returning from the seminary, Abbot Neal taught at the College from 1978 – 1980 and again from 1984 – 1986. He served as the assistant pastor for Sacred Heart Church in Lacey from 1980 – 1981, and as the pastor from 1982 – 1984 and 1986 – 1990, tending to a congregation of approximately 2,000 families.
On May 28, 1993, he was elected to be the eighth abbot of Saint Martin's Abbey. As major superior, he oversees the day-to-day operations of the Abbey and St. Martin's Abbey Corporation, and directs both the senior council and the board of directors. Before his election, Abbot Neal had served in a variety of positions within the Abbey, including sub prior, novice master, prior, guest master, oblate director, member of the Senior Council and corporate secretary.
Abbot Neal has also served as a member and vice president for the American Benedictine Review, and as a board member for the Alliance for International Monasticism USA.
During Abbot Neal's tenure, Saint Martin's has grown and changed: it has become a University, added new degree programs, expanded its offerings and incorporated new facilities and renovated existing ones. Abbot Neal is being recognized for his remarkable lifelong commitment to the community, the University and the mission, and for upholding and promulgating the values of the community. He will be presiding over his 25th Commencement this year overall, having presided over one as an administrator and 24 as the abbot. He will celebrate his 80th birthday this July and his 25th full year as abbot of Saint Martin's Abbey in May 2019.