Nothing, you might think. But it has quite a lot in common when you put Dr. Arne Gundersen and his wife, Rose Gundersen, together. While Gundersen Dental Care has a cozy relaxed clinic, you should find out the secret in its basement. In fact, it is the home office of Washington Trafficking Prevention and its local community coalition, Thurston County Coalition Against Trafficking. Not only has this basement made a difference in Thurston County, this small non-profit has inspired the formation of several community coalitions to prevent human trafficking along the I-5 corridor all the way to the Skagit area.
You may be shocked to hear that human trafficking, a form of modern-day slavery, happens HERE. Yes, it's hard to believe that in 2018, human trafficking is still a worldwide problem. According to the State Department, "There are an estimated 25 million victims of human trafficking throughout the world."
Our region is sadly not immune. The Washington State Office of the Attorney General explains that "Human trafficking is the fastest growing criminal industry in the world today…Washington's Task Force Against Trafficking of Persons reports our state is a hotbed for the recruitment, transportation and sale of people for labor."
Thankfully, local activists have banded together to combat this far-reaching epidemic. Co-founder Rose Gundersen's organization, Washington Trafficking Prevention formerly Washington Engage, strives "to prevent human trafficking in Washington State by equipping the vulnerable and engaging communities. We approach anti-human trafficking efforts through legislative advocacy, professional engagement, primary prevention and community grassroots partnerships."
One of their most popular events is the annual Race Against Trafficking 5K. This is the third year where runners, walkers, and supporters community-wide are invited to raise money, awareness and attract prospective volunteers. This year's race takes place at 9:00 a.m. on Saturday, April 28 outside Mountain View Church in Tumwater.
Beyond this family-friendly, fun event, Gundersen's efforts run all year long. Says Rose, "The basement of Gundersen Dental Care is large enough to host meetings, store supplies and allow volunteers to do work. It's like Grand Central sometimes, especially the few months before the Race Against Trafficking 5K."
The overlapping space works, too. "A donor helped secure a large conference table with chairs to enable 12-15 people meeting around tables for planning and volunteers doing work together. It's an accessible location with lots of parking which makes it easy for day time or evening meetings. We appreciate Gundersen Dental Care staff accommodating the make shift lunch room when our volunteers are there sharing that same room with them," explains Rose.
Rose discovered the human trafficking cause a decade ago. "I started law school in January 2008 and learned about human trafficking (HT) at a dinner conversation. After a bit of research, I wondered what the attorney general was doing about it. After a few contacts, I was invited to a round table discussion then state Attorney General Rob McKenna was hosting and became a policy research intern on HT during my three years of law school."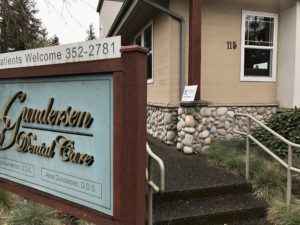 Afterwards, "I decided to dedicate two years of pro bono work to officially start the non-profit, but it turned into five years when the board was strong enough to hire a paid executive director in 2015. My husband supported me not only financially, but with providing office space and taking care of things at home. Though it's been the hardest work I've ever done, this grueling work—along with support from many women groups, churches, and individuals—is beginning to gain momentum."
The 5K race is open to everyone and online registration is easy. Says Gundersen, "On April 28, our community is stepping out to take action to prevent it from happening and—despite the serious nature of the cause—The Race Against Trafficking 5k is truly a fun run, and we encourage everyone to bring their family, friends and co-workers to run, walk or push a stroller. Chip timing is available for serious runners. "
Can't attend the race? Use the registration portal to donate to the cause from home or on the road.
Much of Washington Trafficking Prevention's work is done by dedicated volunteers. "We are totally supported by private grants and individual donations without any government funding," shares Rose. We are thankful that many businesses are sponsors of the Race Against Trafficking 5K.
Here is the good news – everyone can make an impact by volunteering and/or by joining the fun run/walk on April 28. If you'd like to learn more, consider attending one of the Thurston County Coalition Against Trafficking regular monthly meetings.
If you have questions about sponsoring future 5K and other events, call us at 360-602-1259 or email  TCCAT@WashingtonTraffickingPrevention.org. Follow the Thurston County Coalition on Facebook for local and regional volunteer, informational, or donation opportunities.
If you think you know of a specific human trafficking situation, read more and then reach out through the National Human Trafficking Hotline, at 888-373-7888. It's multilingual, toll free and available 24/7.
John F. Kennedy once said that "We are not here to curse the darkness, but to light the candle that can guide us through that darkness to a safe and sane future." Nothing is darker than the purchase and sale of another human being but advocates and crusaders like Rose Gundersen light the way to a brighter, safer future.
Yes, combating human trafficking and dentistry have a lot in common when Dr. Arne Gundersen and his wife, Rose, roll up their sleeves to build a social enterprise in its basement.
Sponsored