Submitted by Olympia Chapter of the Surfrider Foundation
Plastic has become so ubiquitous in our everyday lives, that we have lost touch with what plastic really is. Plastic that is used in much of our food packaging contains chemicals like bisphenol-A (BPA), a substance that has shown to alter human hormone production. Plastic that is not successfully recycled often ends up drifting into our waterways, with the ocean as its final destination. As these plastics break down into smaller pieces, they are often consumed by fish and seabirds, allowing the toxic contaminants from the plastic to work their way up the food chain to marine mammals and humans. Researchers estimate there are now over 5.25 trillion pieces of plastic in the ocean with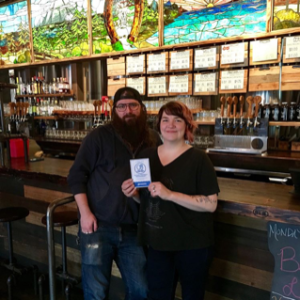 the number continuing to grow every day.
So what's the best way to combat this global epidemic facing our ocean? It's simple: we need to stop the problem at its source! The Surfrider Foundation's Ocean Friendly Restaurants (OFR) program does just that. The Olympia Chapter of the Surfrider Foundation has recently registered three locally-owned restaurants as Ocean Friendly! i.Talia Pizzeria, Three Magnets Pubhouse and Cascadia Grill have all shown their dedication as ocean stewards by participating in this program. To be registered as an OFR, restaurants must meet all of the following criteria:
No expanded polystyrene use (aka Styrofoam);




2. Proper recycling practices are followed;




3. Only reusable tableware is used for onsite dining, and disposable utensils for takeout food are provided only upon request; and




4. No plastic bags offered for takeout or to-go orders.
In addition to these four requirements, restaurants must then choose three practices from the following list to be eligible for OFR registration:
-Plastic straws are provided only upon request;
-No beverages sold in plastic bottles;
-Discount is offered for customers with reusable cup, mug, bag, etc;
-Vegetarian/vegan food options are offered on a regular basis; and / or all seafood must be a 'Best
  Choice' or 'Good Alternative' as defined by Seafood Watch or certified as sustainable;
-Water conservation efforts, such as low-flow faucets and toilets, are implemented; and
-Energy efficiency efforts such as LED lighting and Energy Star appliances, are in place.
Surfrider Olympia is honored to work with these local businesses to showcase their commitments to the ocean. The chapter will regularly meet at these restaurants for board and public chapter meetings, and continue to advertise for these businesses through social media outlets. Their March public chapter meeting was held at i.Talia, and their April public chapter meeting will be held at Three Magnets. Surfrider Olympia's public chapter meetings are held on the last Wednesday of every month – check their website for details! Contact the chapter at olysurfrider@gmail.com if you are a restaurant owner or manager who is interested in getting registered as Ocean Friendly!