Murals, canvas, custom artwork big and small, it doesn't matter what it is, Devin Finley of DefineArts can paint it. "Which is fun for me," Devin says. "I'm always challenging myself." He takes pride in being able to do any and all things, which is beneficial for a commercial artist. "It gets me out of my comfort zone and allows me to grow as an artist."
You've likely seen his work all around town. He did the creek graphic at the Artesian Commons, the coffee mural behind the counter at the Batdorf and Bronson Coffeehouse on Capitol Way, beer-shaped signs at Old School Pizzeria, and photo-realistic canvas paintings of cannabis plants for 420 West in West Olympia. The list goes on. Devin also does a lot of mural sealing and maintenance work for the city of Olympia.
Many of his clients find him by word of mouth, via his website and even on Craigslist. His work takes him all over the country: Portland, Florida, Las Vegas, San Francisco, Denver, Dallas. He's worked all up and down the I-5 corridor. One connection leads to another and he's off from one place to the next, either painting or doing product demonstrations at festivals and conventions.
This flexibility is all part of pursuing his passion to be a professional artist. He works mainly in the commercial art field, painting everything from murals, to signs and logos. "The more actions you take towards your goal, the more results you get," he explains. When he first decided to be a professional artist, Devin thought he'd focus on window painting, but he quickly found that was not his thing. "Take those actions anyway," Devin advises. "That's how you find what works and what doesn't."
When Devin shifted his focus to murals, he started out sketching the outlines on the wall free-hand using chalk. But if he made a mistake with the dimensions or got the perspective wrong, he'd have to start all over. Then a friend showed him how to use a projector, which helped streamline the process. He's since adopted technology to assist his work in other ways. In the early stages of a job, he'll visit a site and take photos of the wall or area to be painted. Then he does design work on his iPad, superimposing his concept onto the photo. This takes out the guesswork for himself and his client. He knows exactly what they want, and they know exactly what the work will look like when finished.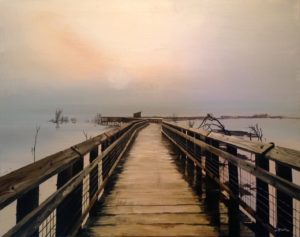 Devin still does free-hand work, and also creates intricately detailed scenes on canvas, both on commission and through his own inspiration. Again he'll start with a photo. Then he recreates the scene. "It's not just a re-creation of a photo with good composition. It has to have more to it, a feeling that is evoked," says Devin. His work is not hyper-realism, but close. "I still have it look like a painting," he adds.
Drawing is a skill that came naturally to Devin. His talent was recognized early on. When he was around two and a half, his mom would take pictures he'd drawn to work. Her co-workers would remark that Devin's drawings were more advanced than most children of his age.
Aside from a few classes as a kid at the Olympia Center and Olympia High School, Devin is essentially a self-taught artist. He started painting on walls as a teenager, spraying graffiti on the many "free walls" that used to dot the alleyways of downtown Olympia. At that time he had a job as a dishwasher at a local retirement home. After high school, he stayed on, gradually working his way up to maintenance director. Through that experience, he learned the practicalities of ordinary indoor and outdoor painting, and a lot of other useful management and construction skills.
A serious health crisis sent Devin's life on a new path when he suddenly suffered heart, liver and kidney failure a few years ago. He pulled through, and while recovering, Devin realized he needed to pursue art as a profession. He started his business DefineArts in September 2013, and it has grown steadily ever since.
Devin's biggest job – and one he's very proud of – is the work he's done on the Fair-haired Dumbbell building in Portland, Oregon. James Jean is the artist whose concept was approved for the project, but Devin was one of four people hired to do the actual painting. "It's the biggest thing I've been involved in," he reveals. Devin worked from June 20 to Halloween 2017 to finish the job, painting the entire exterior of the building.
At some point, Devin would like to have an art show featuring his fine art. His canvas paintings are highly detailed. The landscapes often feature some remnants of industry, a boat run aground, a pipeline, or canal surrounded by greenery. Subtle graffiti tags in these paintings are a nod to his roots as an artist.
DefineArts has given Devin the opportunity to pursue art as a profession and meld his skills. Mixing creative work and business can be tricky. "I use both sides of my brain," he assures.