Walking down a Scottish street on their belated honeymoon, John and Tasha Johnson came upon a sign that got their attention. By sheer luck, they'd stumbled across the National Scottish Ale Fest. "It was completely by accident," says Tasha. "We didn't even know it was there."
The discovery was serendipitous for the Johnsons; John had been perfecting his own brews for years, first in the kitchen, then the garage, and eventually the driveway. In March, the couple opened Yelm's first brewpub, the Nisqually Valley Brewing Company. Following the model of other microbreweries throughout the Pacific Northwest, the pub will focus solely on beer and allow customers to order food or bring in their own.
"The majority of microbreweries in Western Washington stick with brewing and allow people to bring in food and also have food trucks available," says John. "That means food is one whole side of the business we don't have to mess with." Patrons can bring in snacks from home, order out and have food delivered, or purchase a meal from a food truck in the brewery parking lot on Saturdays. "People have gotten pizza delivered here and the El Rey Burro restaurant across the street has gotten a lot of business," says John. "People just call in and walk over there."
Local restaurant Tacos Gaby provided a food truck for the March 3 ribbon-cutting ceremony, which attracted more than 200 people, and the couple plans to rotate trucks with different cuisines to keep customers interested. "We're working on getting different flavors," says Tasha.
For now, the pub is open three nights a week, Thursdays from 4:00 p.m. to 9:00 p.m. on Thursdays, 4:00 p.m. to 10:00 p.m. on Fridays, and 3:00 p.m. to 10:00 p.m. on Saturdays. That's in part because John, a military veteran, and Tasha, a high school teacher, still have regular full-time jobs. "A lot of people have asked us, 'Are you going to be open more days?'" says Tasha. "We've got to figure out the balance of our personal lives and see what happens with demand."
Yelm Mayor JW Foster says the brewery fills a niche for the community. "Yelm has bars that serve alcohol, but none that are brewing in place and reaching out to the craft brewing crowd," he says. "They have a good model." He points to Lacey's Top Rung Brewing as an example of a business that's been successful focusing on making beer without serving food.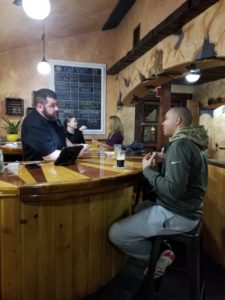 Beyond beer, the brewery also serves another important function, he notes. "It's important to demonstrate that entrepreneurs can be successful in Yelm. You can come in with your dream to start a business and be supported in fulfilling that dream."
Currently the pub has six of its own beers on tap plus a featured guest brew from a local brewery, a number John would like to see grow to nine or twelve. The couple plans to invest in more equipment that will increase their capacity in the coming months. "We keep running out of beer, which is good and bad," says John. "Being able to increase production would allow us to stay in stock a bit more." They also serve a selection of Washington wines.
Within the pub, several big screen televisions show sporting events, but some prefer to bring their own games. "We've had some nights already where customers brought in six or seven different board games," says John. "They were in here for about two hours." Another couple brought a deck of cards to the opening day ceremonies. As spring arrives, the pub's outdoor deck provides another seating option.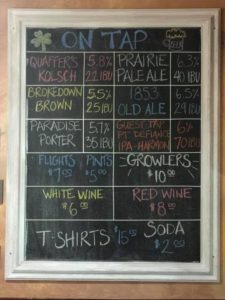 Their customer demographic includes "a little bit of everything," according to Tasha. She's seen former students, now in their early thirties, retired people, military service members and everything in between. "We see all age groups and professions," she says. "We're that place where you can get a group of friends together, have a pizza, and grab a beer or two."
John's interest in brewing began 16 years ago after he discovered an ad in the back of a magazine for a home brewing kit. The couple had discussed the potential of opening the own pub for years, but the time was never right. Then in 2016, despite the challenge of having two children under the age of three and two full-time jobs, the they decided to pursue launching the business. "We realized that if we didn't do it now, another 10 years would go by," says Tasha. "It wasn't going to happen. We'd better just take the leap and do it."
Now that they've opened, the Johnsons are monitoring customer traffic to determine whether they need to hire an employee. "We just don't know right now if demand will warrant that," says Tasha. "We're hoping that it does. We have a lot of return customers and people have said great things."
To learn more about the Nisqually Valley Brewing Company, visit them on Facebook.