Perhaps you have seen the Lions Club eyeglass donation boxes at grocery stores and restaurants throughout the South Sound. Maybe you have even put a pair of your old prescription glasses in the box and wondered where they end up? My own curiosity led me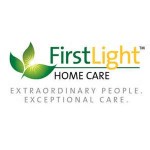 to the Northwest Lions Eyeglass Recycling Center (NWLERC), a nondescript white building that is staffed completely by volunteers who take in thousands of pairs of glasses each week. Of these glasses, 10 to 15% will be provided free of charge to people in developing countries, delivered by volunteer eye care professionals.
Boxes and boxes of donated glasses line the walls waiting to be sorted into several categories, including gender or children's glasses and then again by single-vision or multi-vision. Volunteers are trained to recognize the difference and place them in the appropriate bins. Unique or vintage glasses are separated from the rest and are later sold. Glasses that have any gold the frames are also sold to provide funds for equipment. Once the bulk of the glasses have been sorted, they are sanitized in an industrial dishwasher at 190 degrees.
The next station – as explained to me by Lions Club member Jody Taylor – is the lensometer station. "A lensometer measures the strength of the glasses prescription," explains Jody. Some special training is required to check the lens prescription, in part because the cost of each lensometer is over $60,000. The Lions Club has just two of these very specialized pieces of equipment. The glasses are then placed in bags and the prescription is written on the bags ready for a final inspection. Jody's husband Ed Taylor mans the final lensometer check. After this point, they are boxed up and prepared to be shipped to remote areas throughout the world.
Ed provided me with a few numbers from the past several months: lens techs worked 614 hours testing over 4,700 pairs of glasses and volunteer hours exceeded 3,000 hours. The volunteers at NWLERC are Lions Club members and students from the Vocational Opportunities for Independent Community Employment program, or VOICE program. The VOICE program pairs developmentally disabled students who are 18-21 years old with organizations like the NWLERC program. Don Schmidt, Lions Club member and site manager shares, "The VOICE students do a great job preparing glasses for shipment and washing the glasses for processing, the tasks they perform are beneficial to the success of our organization."
It's not all work and no play at the Northwest Lions Eyeglass Recycling Center in Lacey. As the volunteers chat about their families, one volunteer stops to tell me a quick joke and there is even a volunteer dog keeping watch at the door for the latest visitor. While club members are putting their volunteer hours toward projects like connecting people in developing countries with eyeglasses, they're also making friends and finding purpose. For instance, Ed and Jody were very active in their community when they lived in Eastern Washington. They moved to the Olympia area four years ago to be closer to their children and joined the Lacey Sunrise Lions, where they quickly made new friends in the area in their work with NWLERC.
Glasses recycled by the Lions Club can be found in hundreds of countries. During my visit, boxes were being prepared for missions to Ghana, Honduras and the Philippines. Missions that would like to deliver glasses to countries in need are encouraged to contact the NWLERC for more information on how they can help with the assistance of certified eye glass professional. Since the beginning of the program in 2004, the NWLERC has received over 2 million glasses and donated 240 thousand glasses to missions for distribution throughout the world.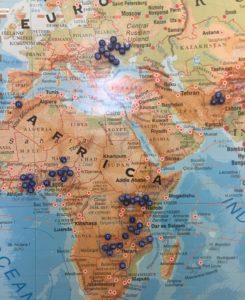 NWLERC doesn't stop at supporting its own mission. They have also partnered with other organizations that need assistance, including those right here in Thurston County. The Executive Committee discovered that SafePlace was in need of emergency cell phones for victims of domestic violence and began a program to collect cell phones for donation.
The Northwest Lions Eyeglass Recycling Center is in the process of building a new larger building to house the thousands of glasses as well as dozens of volunteers. If you would like to help by volunteering or providing financial support, please contact northwestlerc@gmail.com or call 360-923-2075. Lions Club International is the biggest service club in the world with more than 47 thousand chapters.