Peyton Uznanski's preference would be to be behind the plate catching. A knee injury suffered in January during a tournament in Las Vegas has prevented the Capital High School senior from doing that this season.
Luckily for the Cougars, Uznanski is such a multi-talented fastpitch player she can seamlessly slide into any position on the field and be an all-star.
Third base, first base, outfield – take your pick. She can even pitch if called upon, something she had never done until last year.
With a thin roster, Capital was unable to field a JV program in 2017. One of the positions hit most by the lack of depth was pitching. During one contest, the Cougars needed someone to toe the rubber for just an inning.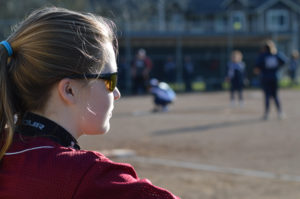 Enter Uznanski.
"That was probably one of the more memorable moments," said Uznanski, who first started catching when she was 12-years-old, but this marked the first time she was on the other end of the battery. "I was just so happy to be able to do that. I had never had the opportunity before."
She only faced three batters, but she will tell you with a beaming smile that she did, in fact, register a strikeout.
Capital coach Erik Riske has called her a "once in a decade" type of player, and on a young Cougars squad still trying to find their footing, Uznanski's strong bat and stellar glove may take a backseat in importance this year to the guidance and leadership she provides a team that features twice as many freshmen than it does seniors.
"Peyton truly is one of those special players and when they come along you enjoy every moment because sadly it doesn't last long," said Riske, whose team sports four seniors, two juniors, three sophomores and eight freshmen. "Peyton has been one of our team captains since I arrived. The players like and respect her a great deal. The players and coaches alike will inevitably stop what they are doing just to watch her swing the bat in batting practice. She has an immense impact on the team."
Even if a catcher's mask isn't in her future during the high school season, Uznanski knows she will wear plenty of hats this year.
"I am very much the mom on the team. If the team is goofing around I will be the one to tell them to stop it or don't do it," Uznanski said when asked to describe all her roles during her senior year. "My expectations are to get to districts. That's my hope for this team, but I just want to see us grow as a team and bond because we have so many freshmen. Being able to mentor the freshmen and help them come into the program is amazing."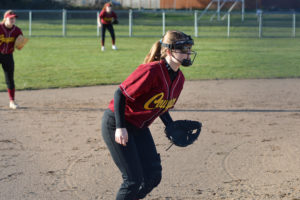 Uznanski, a first-team All-3A South Sound Conference selection at third last year, batted an eye-popping .700 during her junior campaign in a very strong conference that featured the eventual state champion in Yelm.
"Those are ridiculous numbers in a tough league like ours," Riske said. "During a scrimmage game last year when she was going to hit against some of the younger players, for their safety I wasn't going to let her hit, but she convinced me she would just lefty slap hit. I chuckled, but agreed to let her hit if she slapped just for fun. She then executed a perfect slap hit single, of course. I guess that's what great hitters do."
Uznanski will see limited action during the early stages of the regular season and will primarily play at third after suffering a meniscus tear on a slide during a tournament two months ago in Las Vegas.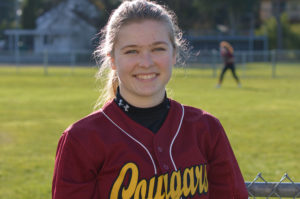 "I'm just taking it easy right now. As long as I am on the field, I love it," Uznanski said. "Team is family. You play together, you win together. It's all together. That's what I love about high school ball. It's a different mentality (than playing for your club team) since you're playing for your school instead of just playing to get into college."
Uznanski will play next year at Bethel College, a private liberal arts college in North Newton, Kansas that has an enrollment of 500.
"I wanted to leave Washington (for school), I didn't expect to go half way across the country," Uznanski said. "I was mainly looking in the Oregon area. Once I looked at Bethel College I liked the school. I really liked the location. Then I got there and loved it. I loved the atmosphere. It's a tiny school where everyone knows everyone. It was perfect."
Another factor in her decision was the school's nursing program.
"That's what I want to go into, and it's a very good nursing program," Uznanski said. "It all just worked out."