Do you love experiential art? Have you longed to see a live performance at The Joyce Theater in New York? On March 29, The Washington Center for the Performing Arts makes that dream a reality by bringing the world famous post-modern dance Stephen Petronio Company to Olympia. Be whisked away by the contemporary new music, visual art and fashion without the big city hustle and bustle or a flight across the country.
While you may not have to travel far to see the show, do not be mistaken – you will be transported on a journey for the senses. Contemporary, post-modern dance is an expressive art using the entire body to illicit emotion. Rhythmic music fuels fluid, often provocative, movement connecting the mind and body.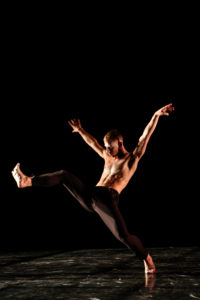 Unique collaborations and improvisations of infamous work from the world's leading contemporary, post-modern choreographers inspires Stephen Petronio Company's Washington Center debut. The critically acclaimed Company, made up of some of the world's most talented and provocative artists, will perform three distinct pieces, offering Olympia audiences the rare opportunity to experience the evolution of the contemporary, post-modern dance movement.
The Company will perform an excerpt from Steve Paxton's Goldberg Variations (1986) alongside some of Petornio's own new works. In its west coast premiere, Hardness 10, inspired by the heat and pressure process in which soft coal becomes the hardest substance, diamond, will feature music by Nico Muhly and costumes by award winning costume designer Patricia Field. While Petronio's Untitled Touch (2017), with an original score by Son Lux, will display "the immediacy of physical contact and the emotional repercussions of skin-to-skin communication," the Center details.
Stephen Petronio Company was founded in 1984 and has performed in 40 countries to include numerous New York City engagements with 23 seasons at The Joyce Theater. Acclaimed by audiences and critics alike, Stephen Petronio is widely regarded as one of the leading dance-makers of his generation.
"We're excited to bring Stephen Petronio's dynamic and provocative presence to our stage," says Billy Thomas, Director of Marketing and Sales for The Washington Center. Thurston County is fortunate to have a place like The Washington Center committed to delivering diverse and high quality performing arts programs. Whether you are steeped in the art and culture of dance or looking for a unique theatrical experience, Stephen Petronio Company is sure to deliver.
Stephen Petronio Company will debut at The Washington Center for the Performing Arts on Thursday March 29 at 7:30 p.m.
Tickets start at $16 and can be purchased through The Washington Center for the Performing Arts website, by calling the Box Office at 360-753-8586 or in person at 512 Washington St SE, Olympia, WA 98501. $10 rush tickets are available the day of the show at the box office for all students (anyone 18 years old or younger or anyone with a valid student ID).
Sponsored