Chris Larson doesn't even attempt to try to piece together the math after being asked how many baseball games he has played with Jake Julagay over the last decade.

"So many," Larson immediately answers. "Way too many to count."
Hundreds?
"Easily," Larson said. "We've been playing together since little league. Ever since the second grade, we've always been on the same team."
Larson doesn't bat an eye when asked if that number could surpass 500. He rattles off all the different teams they've played on from their days in little league, where they participated in the Little League World Series in California when they were 12, to select teams and summer ball, and finally as members of the Timberline High School team.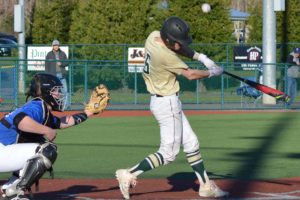 No matter the location, the two have always been on the same roster with Larson playing shortstop and Julagay starting behind the plate as catcher.
"It's always been us up the middle," Larson said. "We just know what the other is going to do now. If someone is going to try to steal second, we're going to get him out. He's not getting a free base."
The two, now seniors at Timberline, became friends in the second grade at Horizons Elementary when Larson moved to Lacey from Bonney Lake.
Not surprisingly, the first conversation the two had centered on baseball.
"The moment I found out Chris played baseball I went right up to him and we just started talking," Julagay said.
"I didn't have any friends when I moved here. I didn't know anyone," Larson said. "One of the first days of school, Jake told me his dad coached his team and said, 'Come play with us.' We ended up both making the all-star team that year."
Ever since that inaugural season, the two have played together.
"Jake's work ethic stands out the most to me. Anything he needs to do to get better he does it. Even as a little kid he would be out outside every day trying to get better," Larson said. "He always wants to go out and hit. If it's a nice day out, let's go hit. Even if it's raining a little bit we're still out there. You have to do that. Our goal since we were little was to go D-1. As the competition gets better, you have to get better too. So we just always tried to put in the work."
This year Larson and Julagay hope all those extra hours of practice pay off for the team as this season has a special added element to it for the duo – it will be their last together as Blazers.
The goal for each in their final season wearing the green and gold? Continue to add to the tradition Timberline has built over the last decade plus on the baseball diamond.
"We just want to keep it going," said Larson, who, along with Julagay, was an All-3A South Sound Conference honorable mention pick last year. "This is my last year. We're not going to let the program down. I keep telling the team we have to keep playing hard. You can't let up in the dugout or anything. Just have lots of energy and just play the game."
The goals are lofty once again for the team. Last year, Timberline advanced to the state playoffs for the fourth consecutive season and the sixth time over the last seven years.
"It's motivation, especially for us seniors," Julagay said. "We have a lot of pride in this program. We want to go out with a bang and do better than last year. Every year you just want to beat what the last class did before you, then at the end of the year you tell the juniors to go out and do the same next year."
Both Larson and Julagay can remember coming in as freshman almost being in awe of the varsity players, something that pushed them to improve.
"The program really built itself up over time and pretty soon it became, 'Once I put this jersey on I'm a good player,'" said Timberline coach Mark Rubadue, last season's 3A South Sound Conference coach of the year. "It became a belief that we are not going to be beat because we are Timberline. Chris and Mark have really bought into that thinking."
Last year's squad, which lost to O'Dea, 9-4, in the opening round of the 3A state playoffs, was spearheaded by a strong senior class, led by SSC most valuable player Tucker Stroup, who hit .457 and drove in 22 runs with his bat and posted a 1.12 ERA and fanned 94 batters with his arm.
Several newer faces are being asked to fill the voids caused by graduation. Yes, the team is young, but Larson and Julagay both view it as opportunity instead of a dilemma.
"We're starting young this year, but we will build that chemistry. Once some of these players get some experience playing varsity we're going to be fine," Julagay said. "This program definitely teaches you early on how to be a Blazer."
This year has already seen the Blazers' football team win a state playoff game for the first time since 2005 and its basketball team placed at state for the first time since 1981.
It only seems fitting Timberline baseball follows suit.
"The school has been putting on a show this year for sports. We just want to continue the trend," Larson said. "We talk about that all the time, just get to state. Win games and get to state. We're just getting started. Once we open up that gate we will get to where we want to be."