They say that "Opportunity dances with those already on the dance floor." At Little Creek Casino Resort's Starlight Lounge, you're sure to find any opportunity you desire whether it's dancing to live music, mixing it up with DJ Smylez, belting out Karaoke or sitting back with a decadent cocktail…or two.
Who's the man behind the music, you ask? DJ Smylez, AKA Myles Fredson, is a Shelton native who admits that he would "fall asleep to the sounds of 80's music coming through my alarm clock radio. I always had an affinity for music of all kinds but it was a combination of attending my local junior high school dances as well as the influence of 90's hip-hop music that made me want to be a DJ. I was 11-years-old when my interest began to grow and I knew it was what I wanted to do with my life."
By working planting trees and clam digging, he was able to purchase turntables by age 15 and started DJ'ing dances at local schools. Resident Starlight Lounge DJ for more than six years, he loves all the "great memories over the years at Little Creek Casino, from people of all ages and backgrounds partying the night away together to the view from the stage of all the hands in the air as the balloons were falling from the sky to celebrate the New Year in the Event Center."
Recently awarded a place in the Best of South Sound's top 3 dance spots, the Lounge is so much more than an escape. "The thing I absolutely love about music is its ability to bring people together and make them feel united through dance despite any differences they might have," says Fredson. "A simple tune has the power to take you back in time to the sweetest moments in life like your first dance with the love of your life or a memorable joy ride with your friends in your first car. That power within the music to bring people together and help them feel good is what made me fall in love with the art of DJ'ing. Having the opportunity to be a witness to moments of pure bliss and joy on the dance floor is easily the most rewarding part of what I do for a living."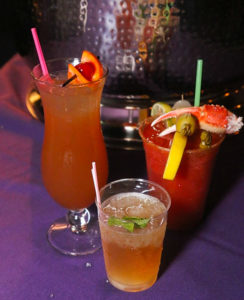 The Lounge offers Karaoke from 8:00 p.m. until midnight every Wednesday, with the first week of the month dedicated to Rockaraoke. Here, singers are backed by a live band. On Thursday nights and the first weekend of every month, DJ Smylez takes over from 9:00 p.m. until 1:00 a.m. The rest of the weekends feature a live band. Sundays are for country music with a DJ and line dancing lessons from 5:00 p.m. to 9:00 p.m. There are always food and drink specials galore and sports playing on big-screen TV's throughout.
All entertainment is free at the Starlight Lounge, with no cover charge. Look for happy hour drink specials from noon until 3:00 p.m. The Lounge is open from 11:00 a.m. until 2:00 a.m. Monday through Friday and 10:00 a.m. until 2:00 a.m. on weekends.
Devotees of the Lounge are many, and DJ Smylez knows them all by name. "I wouldn't feel right if I didn't mention my number one fan, Yana," he says. "This woman loves to dance! She came to every Thursday night for years without missing a night and would dance up a sweat until closing every time. She loves the 80's and 90's hip-hop and dance jams and I always love any excuse to get to play them! Yana is incredibly kind and thoughtful and would always bring me candies or chocolates for playing all of her favorite songs."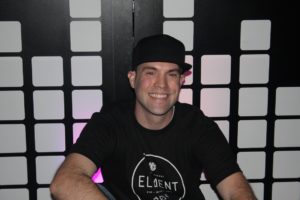 Keeping the party going is a group effort. "The staff at Little Creek makes it a fun place to work. They make me feel like I'm part of their family and I'm very blessed to get to work there. I'm ecstatic that Little Creek was voted as one of the top three places to dance. They're always working towards being the best and it's an honor to get to work with people that work hard at what they do. I've watched the Casino grow in the past 13 years that I've been a member there and I'm excited to be growing with them now as their DJ."
Dust off your dancing shoes and head over to the Starlight Lounge at Little Creek. No matter what kind of day you had, music you like or mad dance skills you possess, DJ Smylez will be there to make it a night to remember.
As DJ Smylez says, "Whatever the future holds I'm excited to grow with the Creek and continue mixing music for the good people that come there."
Sponsored