Easter is almost here. That means time for family, food and lots and lots of eggs. The Easter Bunny made sure there will be no shortage of treat-filled eggs to find this year. We are lucky to live in a community with so many great organizations and volunteers who host these annual Easter events.

Bring your baskets and have a Hoppy Easter with your kids at these local Easter Egg Hunts and events throughout Olympia, Tumwater, Lacey and beyond. 
Saturday, March 24
Join South Puget Sound Habitat for Humanity for their free Easter Egg Hunt at the West Olympia store. The event starts at 9:30 a.m. and kids 13 and under will love searching for hundreds of eggs hidden throughout the store, including six Golden Eggs with special prizes.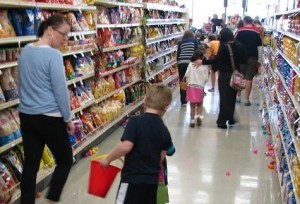 At Olympia's Bayview Thriftway, kids 10 and under can hunt for eggs in the store starting at 10:30 a.m.  Don't miss their cake walk to win some prizes and Easter goodies.
What about the fur babies? Lacey's 11th Annual Dog-Gone Easter Egg Hunt, is sure to be fun for the entire family. Bring your pup because there'll be egg hunts for both dogs and kids. And, the event includes a doggy fashion show, vendor booths and more. Cost is $4 for adults and $1 for kids 12 and under. Proceeds benefit Feline Friends and Fences for Fido.
Hop on down to Olympics West Senior Living Community and enjoy their free Easter Egg Hunt and event. The event runs from 2:00 p.m. to 3:30 p.m. with the egg hunt starting at 2:30 p.m.  Enjoy face painting, balloon animals, games, music, snacks and more. Bring your own basket and join the fun at 929 Trosper Road in Tumwater.
Saturday, March 31
Find the Easter Bunny at the New Apostolic Church's Community Easter Egg Hunt. A special hunt for little ones four and under is first, followed by a hunt for kids five and older. The hunts starts at 10:30 a.m. but snacks, photos, crafts and family fun start at 10:00 a.m. and all are welcome.
This year, OBEE Credit Union's Annual Egg Dash is sure to be even better than the last. Over 18,000 eggs will be up for grabs all over the field at the Regional Athletic Center in Lacey. Kids 10 and under are welcome to participate. The grand prize for four lucky kiddos will be a brand new bicycle. The event is free and starts at 11:00 a.m.
Even more eggs are to be snatched at Tumwater's Annual Easter Egg Dash with over 20,000 eggs filled with candy, prizes and prize coupons. This free event is organized by age groups so all children get a chance to fill their baskets. Start time is 11:00 a.m. for kids three and under, with the last dash at 11:30 for kids ages seven to ten.
Live in Yelm? Join the Yelm Eagles Kids Easter Egg Hunt starting at 10:00 a.m. at 11609 Koeppen Rd SE in Yelm. Hunting is organized by age group and every participant gets a prize. The Easter Bunny will be on site for photos and all the festivities are free, however donations are gratefully accepted and go towards funding next year's hunt.
Nothing says spring like cute baby farm animals. Find them at Lattin's Country Cider Mill and join them for their annual Easter Egg Hunt starting at 1:00 p.m. The hunt is for kids age two to ten. Get there early and make it a day of fun to explore the farm and enjoy the cider and bakery. There is a $5 parking fee.
The Church of Living Water invites the community to their free Eggstravaganza starting at at their 1615 Chambers St. SE location in Olympia. Toddlers through age 10 are invited to hunt around the Living Water campus for eggs galore. Photos with the Easter Bunny and activities and candy for the kids.
Sunday, April 1
Kids will truly be hopping for joy at the Olympia Eagles 21st annual Easter Egg Hunt at Priest Point Park in Olympia. On Sunday, April 1 at 2:00 p.m. there will be a whopping 21,000 eggs filled with candy and prizes, plus a visit from the Easter Bunny. In partnership with South Sound Parent to Parent, a special-needs egg hunt will begin at 12:00 noon for all ages, also at Priest Point Park.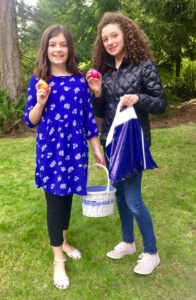 The Olympia Easter Egg Hunt will be held at Burfoot Park, just down Boston Harbor Road from Priest Point Park. The free event is presented by Olympia Masonic Lodge #1 with all donations supporting the SAFE House. Over 6,000 eggs, the Easter Bunny, cotton candy and popcorn, games and the beautiful Burfoot Park. Age group hunting starts at 3:00 p.m.
There's still fun to be had after Easter has come and gone. The week of April 2-7, the Olympia branch of the Timberland Regional Library is hosting a Peeps Scavenger Hunt. Hiding throughout the library, kids can find adorable Peep bunnies disguised as famous book characters, and complete the list to win a prize.
Now, the only questions left are where will you hunt and how will you manage all the jellybeans and chocolate your kiddos bring home?  I suggest they share with you.
Happy Easter!
Thrifty Thurston highlights inexpensive family fun in Thurston County. The weekly series focuses on family-friendly activities throughout our community. If you have a suggestion for a post, send us a note at submit@thurstontalk.com. For more events and to learn what's happening in Olympia, Lacey, Tumwater and the surrounding area, visit our complete events calendar.