The days of home economics class may be over, but it's never too late to learn the art of baking. This spring, 8 Arms Bakery is offering specialized, two-hour classes for both adults and children. Enroll your children to empower them in the kitchen. Or, sign up for a class with friends for some bonding time. Or, sign up on your own and wow your family with your new found skills. No matter which category you fall into – you'll come home with delicious baked goods to share (or not…you choose!).
Before starting 8 Arms Bakery over 10 years ago, owner Jen Ownbey was a teacher in the North Thurston Public Schools. Now, her classroom is in the bakery where she creates delicious treats for the community and passes on her knowledge through her baking classes.
This is Jen's second year running the classes and she says they have been very well received. "People like that it's hands-on and you can try new things and take a bunch of goodies home," she shares. Class participants can take home what they bake, along with the recipe to try at home.
With their new 2,000 square foot bakery, 8 Arms bakers have plenty of space to learn. They moved into the new location in the Warehouse District just off of Old Highway 99, a little over three years ago. Before that, Jen says she was working out of a small garage at her house.
What started out as a small bakery-share program has since grown into a full fledged business operation. 8 Arms sells wholesale to over 30 businesses and café's in the community, including the Olympia and Yelm Food Co-ops, Spuds Produce Market and Wally's Sandwich Bar. Despite their success in retail outlets, they still continue their popular bakery share program, staying connected to their roots.
Like a CSA, their Community Supported Bakery program is the only one of its kind in the area. Customers can buy into a three seasonal share program, ranging from 20 weeks to 9 weeks, and receive a weekly box of fresh goods from the bakery. And, they certainly have a lot to choose from, including traditional, gluten-free and vegan options for shares.
Likewise, baking students can make their recipe gluten-free if they wish. For weeknight classes, Jen will also make a warm pot of soup to share and enjoy with the fresh goods making it an evening of relaxation, food and fun.
Jen's favorite part of running a bakery is trying new recipes. Right now, 8 Arms Bakery is making Irish soda bread, Bailey's Irish Cream bars and cheesecake in celebration of upcoming St. Patrick's Day.
Visiting the store to buy a treat for my family, I chose some German Chocolate Cake from among four big baskets of different flavored wrapped bars and cake portions. In addition, I was tempted by their pies, breads, bagels and savory snacks.
The bakery is open Tuesday through Saturday, 8:00 a.m. to 4:00 p.m. with hours on Wednesdays set at 9:00 a.m. to 7:00 p.m. Longtime customer Gabby Skol says she has enjoyed coming to the bakery every weekend with her family. Now she's a new staff member and ready to learn the tricks of the trade. She is also a current student in the baking and pastry program at South Puget Sound Community College and is honing her skills in the classroom and on the bakery floor.
"Just working here I've learned a lot," shares bakery manager Brady Espinoza. "I started off as an employee, as a baker at first." Not long after, he was promoted to manager.
"We're a small business so everybody here is super close with each other, it feels like a family business," says Brady. "We only have six people. I think that's the one thing that I enjoy most – working with the people that are here."
Learn what's it's like to be a part of the 8 Arms Bakery family, creating your own treats right alongside the baking experts. The first classes start Saturday, March 10. Register by calling 360-754-6894. 
8 Arms Community Bakery Classes
For a full description of each class, visit the events page online. Adult classes are for ages 16 and up. Kids classes are for ages 8 – 15. 
Pie Basics Kids: Saturday March 10, 10:00 a.m.-12:00 p.m.
Pie Basics: Saturday March 10, 1:00-3:00 p.m. and Tuesday May 8, 5:30-7:30 p.m.
Muffins: Tuesday March 20, 5:30-7:30 p.m.
Muffins for Kids: Saturday April 14, 10:00 a.m.-12:00 p.m.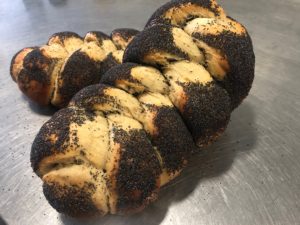 Biscuits: Tuesday April 17, 5:30-7:30 p.m.
Bread Basics Kids: Saturday May 12, 10:00 a.m.-12:00 p.m.
Bread Basics: Saturday May 12, 1:00-3:00 p.m.
Classes are located at 8 Arms Bakery, 8108 River Dr. SE Suite #108 in Olympia.
More information can be found on their website.
Sponsored