Each spring, the winners of the previous year's Harmony Sweepstakes regional contests are asked to return and serve as hosts for the competition. This year, Renegade Quartet will welcome seven diverse singing groups to the stage of The Washington Center for the Performing Arts on Saturday, March 10, at 7:30 p.m.

All four members of Renegade were young children when the first PNW Regional took place in 1996, and one of them wasn't even born when the very first Harmony Sweepstakes competition took place in 1985. Despite their relative youth, their talent is undeniable. The quartet's ability to lock and ring chords and entertain captured both the audience and the judges' attention. They were crowned PNW champs in 2017. Although they call themselves a barbershop quartet, Renegade sings a variety of different styles, including pop and Broadway standards. Renegade lead singer Alena Hemingway has even been known to play the ukulele on stage when they're not competing.
After winning the 2017 PNW Sweeps, Renegade went on to compete in the National Championships where they earned favorable comments from the judges and were able to meet many other a cappella enthusiasts from around the county.  "The talent there was simply out of this world," says Holly Davis, a member of Renegade. "Many of those groups were seasoned Sweeps winners and knew the ropes. They were all incredibly humble and friendly groups who welcomed Renegade into the fold. The love from the audience was palpable, and it was overall an incredible experience. It was also pretty darn cool to sing tags with Mike Rowe at the afterglow!"
The experience was also a boost to their confidence. Last May, Renegade received the highest scoring wild card slot for the Sweet Adelines International Championships held in Las Vegas in November. There, the novice group leapfrogged over many more experienced quartets, placing 11th in the world, and earning a bye to the 2018 competition in St. Louis.
Davis, who sings baritone (the middle harmony part), has a high pressure job in portfolio management, but her passion has always been singing.  "The human voice is an incredible instrument," she says. "A cappella music continues a musical tradition that predates man-made instruments. The intricate harmonies and skill it takes to tune barbershop chords is nothing less than addictive. Plus, the camaraderie within the barbershop and a cappella community is exceptional."
Hemingway developed her musical chops singing professionally with a number of bands and performing in musical theater. Audience members may recognize Hemingway from The Tacoma Musical Playhouse and other south sound stages where she has appeared in roles as diverse as Eva Peron in "Evita" and Mary Magdalene in "Jesus Christ Superstar." Now a real estate broker in the Kitsap area, Hemingway thinks that a cappella audiences are among the best to sing for. "The community is so invested in the performance and the culture and really respects the work that goes into making great music," she explains. "I put my soul into performances, and in few other places is that so appreciated."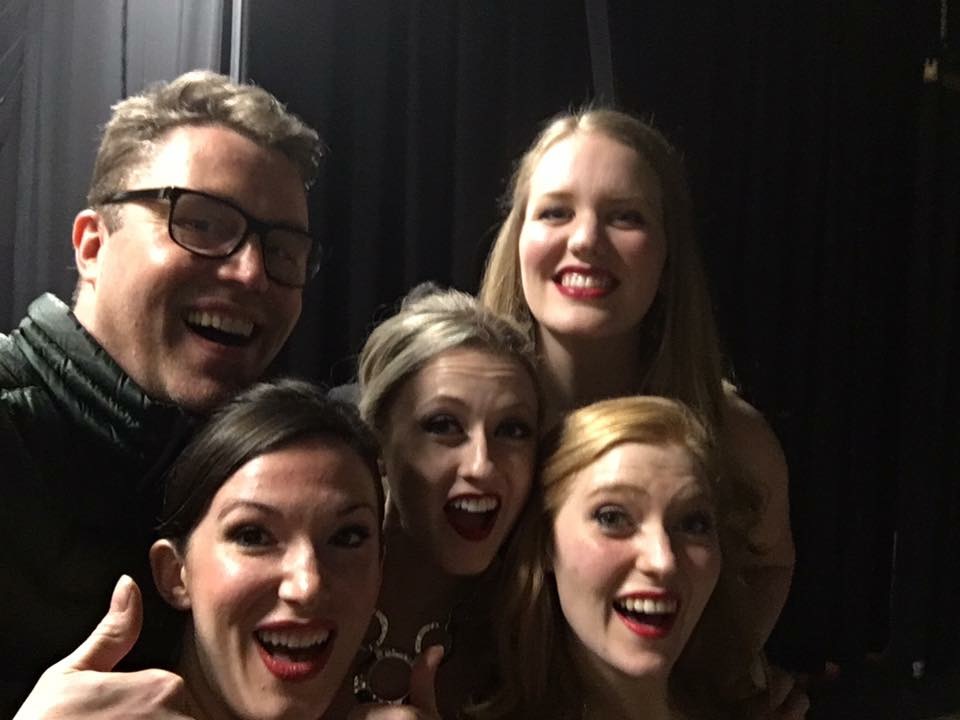 Rachel Pack, the third members of Renegade, earned a degree in Music Education with an emphasis in Choral Music from Pacific Lutheran University. Now a high school choir director, she is a classically trained soprano and sings the high harmony (tenor) part. She and Renegade bass Bethany Frerichs previously competed in the Harmony Sweeps with a quartet called The Four Get Me Nots. Frerichs is a Spanish teacher and claims to be the least experienced musician of the group, although she grew up woodshedding harmony parts with her music educator mother and her three siblings.
All four members are excited to host this year's competition. "Competing is fun, but to be able to perform and share our music without the pressure of competing is pretty great," says Davis. "We have some new arrangements to share with the audience. The competition this year is tough!  Renegade would give them a run for their money, but I'm glad we don't have to!" Frerichs agrees, "We're looking forward to getting to enjoy the music and talent they all bring to the stage."
You can view an official video of Renegade's performance at last year's Sweet Adelines International Championships on YouTube. You can see other performances on YouTube by searching for Renegade Quartet.
Competitors for this year's PNW Harmony Sweeps include:
20/20: 5-person mixed-voice group of current and former music students from Central Washington University.
Altra VoltaL: a 7-voice a cappella vocal ensemble from Calgary in the province of Alberta, Canada.
B-Side Book Club: an 8-person mixed-voice group based in Portland.
Fourcast: a women's quartet from north of Seattle.
Fusion: a men's quartet based out of Vancouver, BC.
S'Pacific Sounds: eight women's voices from the larger Pacific Sound Chorus in Bellevue.
Stumptown Fellas: a men's group specializing in R&B.
For complete bios and photos, check out the PNW Sweeps Page.
Ticketing information for this Saturday's competition can be found on the Washington Center's webpage.