Children at the Hands On Children Museum often spend hours exploring every nook and cranny of their jungle gym and experimenting with water, gravity and more. Meanwhile, their parents sit on the sidelines (and those without children have probably never even stepped inside the museum).
However, only three times a year, the magic shifts and HOCM allows adults to release their inner youth with their "Adult Swim" program. The museum "closes" as the venue becomes a 21+ only themed event full of activities, cocktails and photo-worthy moments. On February 9, 2018, guests at the first Adult Swim of this year got in the spirit of romance and heartbreak for "Love Bytes."
"At each Adult Swim, we partner with many generous businesses and community organizations that lead activities and provide education to attendees," said Sarah Toelle, marketing and communications manager for the HOCM. "A very popular partner that we work with is Shipwreck Beads."
Shipwreck Beads led an activity at "Love Bytes" where guests could create custom "Shake Your Tail Feathers" boutonnieres or barrettes. Other highlights from Friday's event included handcrafted elixirs from Faery Apothecary, science experiments from "Dr. Heartbreak" and tasty beer from Sierra Nevada Brewing Company or a special "Love Potion #9" cocktail. Throughout the evening, laughter and cheers filled the museum as guests danced, sipped and reconnected with the power of imagination.
"We have several Adult Swim themes that have proved quite popular over the years, one being BeerCraft," added Tolle. "[Now] we have committed to offering the BeerCraft event every spring."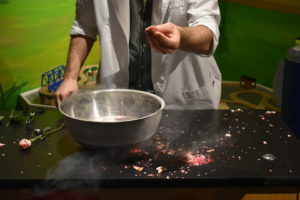 BeerCraft is the next Adult Swim, taking place on April 13, 2018. The evening will include beer tastings from local breweries as expert brewers explain the brewing process. You can find more information on the upcoming Beercraft here. If you're looking for a unique date night or friend's night out, Adult Swim is the event you won't want to miss.