Here's a not-so-fun fact: the number one cause of foreclosures in the United States is home owners not being able to work due to injury, illness or loss of a job. In fact, according to a 2009 report from NeighborWorks, over half of all homeowners — 54 percent — cited loss of income as their primary reason for foreclosure.
The economy has picked up since that low point, but loss of employment remains the number one factor in losing one's home. Just one unforeseen event can upend the best-laid financial plans, says State Farm agent Melanie Bakala, which is why she encourages clients to consider life and disability coverage. "I always ask people, 'If your last paycheck was truly your last paycheck, would your family be okay?'" she says. "It's important to slow down and take a look at that."
It's not a topic many want to think about, but according to the Council for Disability Awareness, just over one in four of today's 20-year-olds will become disabled before they retire. For 40-year-olds, that number jumps to 43%. The major cause is not accidents but disease – cancer and heart disease ranking high while back injuries are also a common factor.
When most clients think about insurance, they automatically imagine home and auto coverage, she says.
"People believe that their home is their biggest asset, but really, your biggest asset is your ability to earn income. What if something were to happen to that?"
Her goal is to transform people's idea of insurance so that they view it as part of their overall life plan to help them achieve – and protect – their dreams rather than a minimum requirement to fulfill. "It's a key piece to making sure people can realize their goals," says Bakala. "Some think, 'If something goes wrong with someone in my family, I'll just go back to work,' but that's not the reality in most cases."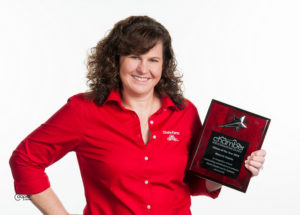 As an example, if a family member has an accident or a medical emergency and ends up in the hospital for several weeks, the lack of financial support compounds the problem. "You don't want to be thinking 'I have to go back to work next week because that income has stopped,'" says Bakala. The worst case scenario is if a family member dies, but those left behind have no time to grieve because they're so focused on replacing the lost income.
Employees can gain a false sense of security relying only on benefits through their jobs, she notes. "Those will work for a while, but if something happens and you hit the four or five month mark without being able to work because you're hurt or sick, it becomes significant. You don't want to have to use your 401(k) as income because you can't work."
Bakala and her staff continue to raise the topic with clients. "We're trying to shift the paradigm," she says. "We're passionate about having these conversations."
Melanie Bakala has offices in both Shelton and Lacey. Learn more by visiting Melanie's State Farm site online or calling 360-426-2428 (Shelton) or 360-972-7905 (Lacey).
Sponsored