Juliauna Gosney is no rookie when it comes to bowling.
Sure, she's only a freshman on North Thurston High School's girls bowling team, making her one of the youngest of the 17 bowlers on the team. But, that doesn't make her a novice when it comes to rolling strikes or saving spares.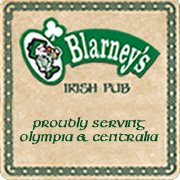 Gosney's been bowling for five years, joining a league when she was in fifth grade. That makes her an experienced athlete and helps explain her veteran-like scores. She's the best bowler on her team, averaging 171 for league and 169 for the season.
"I've got the experience," Gosney said.
And she's got the talent. Which hasn't happened by accident. Gosney puts in the extra practice. In addition to three practices a week and two matches a week with the Rams, Gosney also bowls with a club team on Saturdays. Six days a week, she's at the bowling alley, perfecting.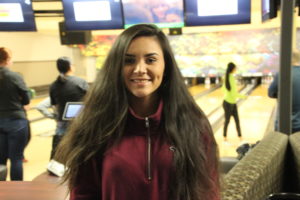 "She's been bowling really competitively," said Adam Brandenburg, the Rams bowling coach. "She's had some really plus performances with us. As a freshman coming in, you could tell she was dedicated to the sport. She's put the time in."
Like Gosney, Makenzie Brathovd is also an eager, overachieving underclassman with a bowling ball in her hands. While only a sophomore, Makenzie is second on the Rams' team, averaging 155.8. And like Gosney, Makenzie is no rookie bowler.
"I've been bowling since I was five," Makenzie said at a recent practice. "I just love it."
That means she's committed to getting better and to accomplish that, Makenzie bowls six days a week. On Saturdays, she bowls with her club team and the hard work has paid off. She rolled a career best 264 last year and she's averaging 155.8 this season.
For Makenzie, her secret to bowling is composure, not power.
"Getting set before you bowl is important," Makenzie said when asked what's key to bowling. "Don't rush it. Be very consistent."
It's not a surprise that bowling is Makenzie favorite sport, something that's she's excelled at. It's in her blood. Her parents own Aztec Lanes, a long standing bowling alley in Olympia. It's the same alley where the Rams practice and hold their games.
Her father, Dan Brathovd, manages Aztec Lanes. And he's also an assistant coach with the Rams, giving him the opportunity to coach his daughter. It's a time he both cherishes and occasionally cringes about.
"It's fun," Dan said, then adds with a smile, "You always get that parent to child resistance every now and then. They generally agree they need to do the work and do the same thing everyone else is doing."
Sometimes it's hard for Makenzie to decide if she's listening to her coach or to her dad.
"I always remind them I'm coach today, not dad," said Dan, who has coached his other children.
Dan has coached Makenzie since she was five.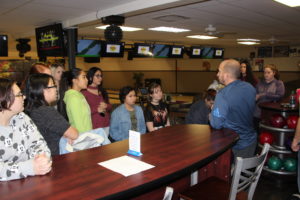 "He gets a little under my skin," Makenzie said with a chuckle. "But, he helps me. He's been coaching me since I was little. He knows me and he knows what I'm capable of. He's very good with the other girls, too."
As a freshman, it would be easy for Gosney to be intimidated, to think "I'm only a freshman, I shouldn't be the best on the team. I'm too young." But years of bowling have helped her settle in quickly.
"She's doing outstanding," Brandenburg said. "She doesn't shy away from challenges."
As an example, Brandenburg shared a story about the team's recent match at Central Kitsap near Bremerton. On the ride back home, the team stopped at a McDonald's to get something to eat. Brandenburg had challenged his young freshman before the match.
"I told her if she got a 200 game I'd buy her a McDonald's burger," Brandenburg said with a chuckle. "Immediately, she was on task. Focused."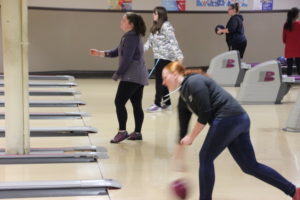 Not intimidated, Gosney rolled a 225, a league best so far this season. Some would melt under the challenge. Not Gosney.
"She has that great competitor's mentality," Brandenburg said.
North Thurston's bowling team has grown under Brandenburg, who's in just his second year as the bowling coach. Typically, there are eight or nine on the team and this year there's 17. As a PE teacher, Brandenburg is in contact with the students, allowing him to recruit and get the word out about the Rams bowling team.
"Adam has stepped it up," Dan said. "He's taken over. He's really working it over in PE and getting the stuff out through the school. Doing all these other things we've never done before. It's fantastic."
Brandenburg's focus is about helping his team get better. In addition to working on technique and mechanics, he also mixes it up with what lane they practice on and who they practice with.
"They get comfortable bowling on lane eight every practice," Brandenburg said. "We want them to bowl on lane four, too. Give them a little different look."
It's going to be a different atmosphere at away games and switching things up prepares them for travel. With his team, Brandenburg also always stresses letting go of mistakes. It's all about focusing on the next shot, not the one you just flubbed.
"If they throw a bad ball, if they miss a spare, they come out disappointed," Brandenburg said. "We say, 'Hey, you missed a spare. It's over. Go back and make a good shot the next time. You can't fix what's already happened.'"
That focus on the future is working for this young and upcoming Rams. And that future is looking bright.