It's the final practice of the season for the South Puget Sound Community College volleyball program and head coach Melanie Miller and her staff have joined the players on the court for a game called "2 Ball."

The concept is exactly what it sounds like – two full teams on both sides of the net with two volleyballs in play. Chaos ensues as bodies fly over the court with Miller constantly sacrificing herself to come up with a dig.
The second-year coach is successful with some attempts, while others fall short. But no matter how hard she crashes to the ground, she quickly pops up to her feet, a giddy grin present on her face every time.
The game is hectic with no downtime. Players are feverishly scrambling around trying to keep each ball alive. It is something that requires communication and familiarity among the teammates – two aspects which were in the developmental stages in 2016 during the Clippers' inaugural volleyball season.
"We tried to do it last year," Miller said. "No one really knew what to do."
This year, however, characteristics that were previously in the works are now features that were very much a team strength in season No. 2.
"It's nice that we've kind of found a rhythm and some consistency. Everybody is used to everybody now," Miller said. "Now they are more of a team."
It's never easy creating a program from scratch – magnify that by a significant amount when you're talking about community college athletics which are without the luxury of juniors and seniors and are forced to build relationships in just a short two-year window.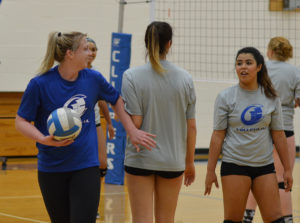 A little more than a year ago Miller didn't have equipment. The program didn't have jerseys, which wasn't too much of a concern because it also didn't have any players to put on those non-existent jerseys.
Now, with two years under its belt, the Clippers have laid a solid foundation for the future.
SPSCC celebrated its first ever "Sophomore Night" on November 8, honoring six players with Olympia High School graduate Lydia Soto and Black Hills' grad Ellie King being recognized as the program's first ever two-year players and for their efforts in helping the team during its infancy.
"The ones that were here from the beginning – Lydia and Ellie – have really been the core and the heart of the team and I could not thank them or appreciate them more," Miller said about her two departing sophomores. "They are just awesome young women and I am very fortunate that they stuck it out. I am very thankful to them for that and the amount of leadership they contributed to establishing our team culture too."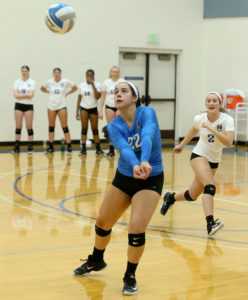 On the court, SPSCC saw an uptick in wins, finishing the season with an overall record of 13-29 – a five-win improvement over 2016 – and a 5-9 mark in the Northwest Athletic Conference West Division with the Clippers biggest victory coming against divisional runner-up Highline in a 3-1 home triumph on September 22.
Statistically, sophomore Jaeya Reed, a graduate of Tumwater High School, ranked seventh in the conference with a 3.38 kill per set average and finishing with 284 kills on the year. Freshman Leslie Sanchez-Arellano was 11th in the NWC with 6.89 assists per set, finishing with a team-high 648 assists, and Soto was 24th in digs with 274.
Even more valuable than the wins and losses is the draw the program had to a handful of former local standouts in Reed, North Thurston's Haley Harn and Black Hills' Caroline Franklin – a trio of sophomores who transferred in this year to play for their hometown team.
"I think having them come here really speaks about where the program is headed. They believed in the program and obviously they saw something that was already established and they felt comfortable transferring which is nice," Miller said. "It speaks to the culture to what we are creating. I think that our record didn't reflect just how good we really are. If we had some of the transfers from the very beginning it would have been a totally different story, but that's how it goes sometimes. I just can't speak enough on how great a group of young women they are."
A year ago when Miller was rounding up recruits she didn't have a product to showcase. Now she has one that is trending upwards.
"The word of mouth has travelled really fast about us," Miller said. "We've actually already had three or four girls come to practice as recruits. They can't sign now, but they came and checked out the campus, which is awesome. We didn't have that at all last year."
While five sophomores exit the program, one from this season, Jordaan Hall, will be back next year after sitting out the season with an ankle injury.
"She really wants to transfer to a four-year and that's something we want to help all our players out with," Miller said. "We want to get them onto that next level if that's something they want to do."
In addition to Hall's return next year, SPSCC will return five freshmen in 2018 in Sanchez-Arellano, Alexis Sharp, Madelyn Potts and Shelton High School graduates Paige Johnson and Adrianna Eleton.
"We've had quite a few challenges, but everyone has come together and supported everyone," Miller said. "It's nice to see that family atmosphere develop. Regardless of whether we win or lose we've stuck together."