Huddled into a small circle, tucked away in a corner of Marcus Pavilion, Tumwater High School volleyball coach Tana Otton addressed her team for the final time this season.

Players held hands, fighting back tears and emotions, as Otton quietly spoke.
The Thunderbirds had collected a trophy in each of the previous six state tournaments, including winning it all last year to give the program its third overall title.
However, there would be no state championship repeat this year. In fact, no trophy at all for Tumwater as the team was surprisingly eliminated from the Class 2A state tournament, losing in straight sets in the two matches they appeared in at Saint Martin's University on November 10.
Otton, however, didn't mention volleyball once to her squad.
"I reminded them that they always said the team dinners were their favorite part of the season. They always had the most fun there, even more than playing volleyball," said Otton, who has transformed the T-Birds into one of the state's premiere powers regardless of classification over the past dozen years.
"I told them not to make (the state tournament) the last thing they remember about this year because it was so much more than just playing volleyball. I just didn't want that to be the last thing they remember because the journey was so much better than that."
The speech was brief. The hugs and final embraces among the team and coaching staff lasted much longer.
Looking to become the first back-to-back state 2A champions in seven years, an extremely young Tumwater team, which dealt with injuries over the course of the season, simply ran out of steam in a venue where it normally triumphs.
"I think the hardest thing is when you have expectations like you do in our program that if you don't win state (the players) believe they didn't do us proud, and I couldn't be more proud of this group," Otton said. "They are leaving on a sour note. We haven't left this way for a while. I hope that when they go to slept tonight when they wake up in the morning they think about all the great things that happened this season."
The T-Birds had just three seniors on their roster this year in Kennedy Croft, Mia Basso and Sara Schultz. The trio certainly don't exit the program empty handed as their class won four 2A Evergreen Conference championships, three district titles and two state championships over their four years.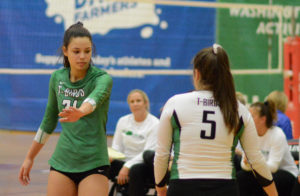 Croft, who is Otton's daughter and last year's state player of the year, ends her star-studded high school career as the program's record holder in a variety of categories, including kills in a season with 406.
"I just told her afterwards how proud I was of her," Otton said. "It really has been such a special experience to be able to coach her these last four years."
Croft, who will play next year at Gonzaga, moved from her outside hitter position to libero during the state tournament as she was still dealing with a nagging injury.
The T-Birds, after finishing third at the district tournament, opened state against Pullman, the fourth-ranked team in the state. The Greyhounds dispatched Tumwater (25-20, 25-20, 25-20) to give the T-Birds their first opening round defeat since 2010.
Croft had 20 digs and five kills against Pullman, while Savannah Sleasman finished with 12 kills and Sophia Koelsch had 28 assists in the loss.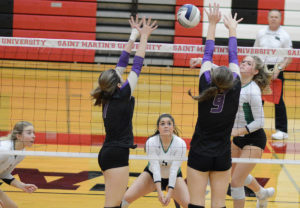 "For a lot of our players this was their first time playing at the state tournament," Otton said. "There were times this season where we played as if we were afraid of losing instead of playing to win. We just played timid."
Tumwater (15-5) saw its season come to an end the very next match in the consolation bracket when it lost to North Kitsap (25-21, 26-24, 25-14).
Sleasman, a second-team all-EvCo selection, once again paced the T-Birds' offense, registering 13 kills. Koelsch, a first-team all-EvCo honoree, handed out 30 assists, while Croft came up with a match-high 20 digs.
"There were times when we had all sophomores and one junior out there," Otton said. "I think they got a ton of experience out of this, and they will definitely be better for it."
Sleasman and Koelsch were joined on the roster this year by fellow junior Mikaeli Decker. The T-Birds also featured sophomores Ellie Bocksch, Leah Cairns, Rose Foisy, Rachel Schultz and Aliyah Williams, and freshman Andrea Hanson.