Submitted by Karen Urman for Gig Harbor Canoe Kayak Racing Team
Danzig "Ziggy" Norberg, 23, a junior at The Evergreen State College, won a gold medal in the VL2 men's 200 meter final at the 2017 Para Pan American Sprint Championships in Ibarra, Ecuador on October 15. The Pan Am Championships drew over 200 athletes from 13 countries. Norberg, who trains with the Gig Harbor Canoe Kayak Racing Team, achieved a time of one minute and two seconds, beating out Brazilian paddler, Alex Pessoa, by one second. Canadian, Trinity Tratch, took third.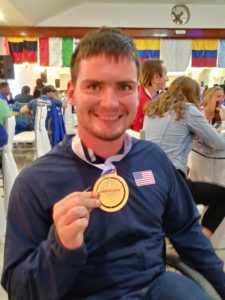 Norberg, who was born with Spina Bifida and uses a wheelchair, was one of only a few U.S. Canoe Sprint athletes, disabled or able-bodied, to reach the podium in international competition this year. "It is an honor to represent my country," said Norberg, a four-time member of Team USA, after winning his first medal at an international race. "And I'm absolutely thrilled to bring home a gold!"
Norberg placed seventh at the 2017 Paracanoe World Championships held in August in the Czech Republic. He has competed in the kayak but concentrates on the other style of boat used in Paracanoe, the va'a, a rudderless outrigger canoe. While Canoe Sprint has been an Olympic sport since 1936, Paracanoe has only recently been included in the Paralympics. The kayak debuted in Rio in 2016, and after the announcement in September that the va'a will be included in the 2020 Paralympic Games in Tokyo, competition is heating up. Norberg's goal is to represent the U.S. in 2020. "I've dedicated the last six years to this sport and to my dream of competing in the Paralympics," Norberg said. "After countless hours on the water and in the gym, winning in Ecuador really affirms that I'm doing something right!"
Norberg is studying pre-law with an emphasis on sports and disability. Although he looks forward to a long career as an elite athlete, he aspires to work with an international organization advocating for disabled athletes and inclusiveness. Norberg works at Evergreen in Access Services and in the Game Management Department at the CRC. To support Norberg and keep up with his progress, got to gofundme.com/ziggys-going-to-worlds.
To read more about Ziggy, go here.