As a teacher, there's no greater thrill than seeing your students successfully apply what you've taught them. Imagine, then, how Professor Mike Murphy feels. One of his former pupils, Michaela Kleinhans, is now a member of the team from KMB Architects that's designing the building renovation for the CAD/BIM program he teaches at South Puget Sound Community College. "It's very fulfilling and exciting," he says. "Michaela is very smart and talented and I'm thrilled that she's having such a successful career."
Kleinhans graduated in 2015 from the program which focuses on four main areas: Computer Aided Design (CAD), civil engineering, mechanical engineering, and Building Information Modeling (BIM). "We're in the business of trying to change lives by teaching people how to draw with computers," says Murphy.
Traditionally, the program has been housed on the main SPSCC campus in West Olympia but next fall, it will be moving to the satellite campus in Lacey. KMB won the design contract to remodel building three at the Lacey site. "Our faculty have met with their team twice this summer for pre-design conversations," says Murphy. "They're going to re-design our classroom and faculty offices."
Kleinhans worked as an intern at KMB while continuing to attend SPSCC before being hired full time. She says the program prepared her well for her current role. "It's run really professionally. You have deadlines just like you would at a firm and there's not constant supervision. The transition from school to work wasn't that extreme. I mainly studied residential building and KMB focuses mostly on commercial, but the concepts are still there."
She credits the faculty with actively supporting students in launching their careers. "All of the professors were very helpful," she says. "They taught us the professional aspect of what was going to be expected and worked with us on resumes and cover letters. They also let us know about job postings that were open and helped us find jobs. That's something you don't find very often."
Demographically, the program has a wide range. "I had an 85-year-old student a while ago. The youngest we've had was 14," says Murphy. "We get folks who are retraining, people who've been injured on the job, kids from high school and those who are making a mid-life career change. We have a lot of veterans and people who just want to update their skills."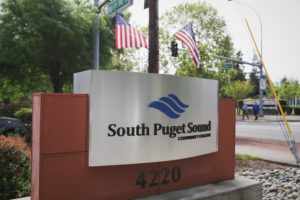 Kleinhans had already earned an Associate's Degree at SPSCC through the Running Start program when she enrolled in CAD/BIM. "I like drawing and I'd taken a couple of classes and enjoyed it, so I continued," she says. Her focus was on CAD, BIM, and mechanical drafting.
She's excited to be working on a project for her alma mater. "It's pretty cool. There will be larger classrooms and labs with longer hours for both the students coming in and the professors. It will be a nice space and more functional."
Murphy agrees, although he's enjoyed the program's current location. "We have wonderful facilities here," he says. "We moved in here six years ago from Building 22. It was a real upgrade and I think this next move will be the same sort of experience."
He appreciates the ongoing relationship with KMB in general and with principal Mark Beardemphl in particular. "Mark and KMB have been a strong support for many years," says Murphy. "He's a lovely man who has hired several of our students. Two or three have gone on to become licensed architects, which is not an easy journey."
For her part, Kleinhans has a message for her professors. "I get to show what they taught me actually being used in the field," she says. "I want them to know, 'You are really good at what you do.'"
For more information about South Puget Sound Community College, visit www.spscc.edu or call the main campus at 360-596-5200 or the Lacey campus at 360-709-2000.
Sponsored