When Rich Brown took over the cross country program at Tumwater High School he had a total of 18 kids combined for both the boys and girls teams turn out.
Seven years ago he introduced the sport to Bush Middle School. This season he's coaching 65 runners.

For quite some time Tumwater has been thought of as a football and volleyball school in the fall. Brown and a gifted set of runners are proving there's plenty of room for cross country as well.
"Prior to having the middle school program, I would get kids that would start in other sports because they usually don't know what cross country is when they come in as a freshman," said Brown, a former Thunderbird himself who finished second at the state meet as a senior in 1990 and fourth as a junior. "We usually get them, maybe, as a sophomore, but mostly as a junior or senior, and they end up falling in love with it. But you only have a year or two to work with them and then they're gone."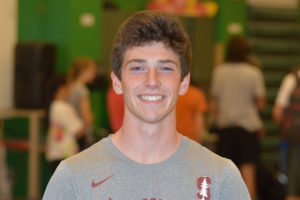 That isn't the case with this year's boys team. This is a group of cross country veterans, and they plan to leave their mark on the program.
The T-Birds took the maximum seven runners to the Class 2A state meet last year, finishing 12th as a team. Six of those runners are back this season.
Seniors Joseph Morrissey, Chad Stancil and Ryan Knight join juniors Coe Johnson, John Ericks and Carson Greenwell as Tumwater's returning state participants.
"Even though it is an individual performance sport it's also very much a team sport because without my teammates, it's hard for me to push myself every day," Knight said. "They're out here pushing it just as hard as I am. It makes it easier."
One of the workout rooms at the school has nearly 20 stationary bicycles located towards the back. On this day, all are occupied while numerous other runners stretch on the floor surrounding them as runners try not to trip over each other.
"This isn't even all of them," Stancil said about the turnout. "We normally have 50 to 60 high schoolers here and we're all trying to get around 20 middle schoolers. Today's kind of light."
It's a daily routine to have the middle school athletes on-hand and working out with the high school runners. It's a practice that has been extremely beneficially for the T-Birds.
"It's been critical for the middle school kids to come in and get a taste of what we do," Brown said. "We modify the routine for them, but it's very similar. So, when they get to high school they know the expectations. We're not just babysitting them. They're thrust into it early."
It was that way for Morrissey, Stancil and Knight as the three seniors took up the sport prior to their arrival at the THS.
"It really kind of kicked off for me when I was in eighth grade," Knight said. "Having all these leaders at the high school since we combined the programs just helped me a lot."
Evan Groat, the seventh member of last year's state participants for the T-Birds, has since graduated. Groat was Tumwater's top runner in 2016, finishing 11th overall at the state meet, the highest placing for any local runner in the 2A classification. Groat was also the undeniable team leader.
Brown didn't have much of wait when trying to locate who would step in as this year's leaders.
"Four guys have teamed up to take on that role this year," Brown said. "We have a trio of guys, Coe, Ryan and Chad, who are more on the vocal side. Joseph, more or less, is our lead by example runner. He's our die hard worker. Even last year with Evan, Joseph was his go-to guy. They worked so well together and developed this positive atmosphere here. The rest of the team just followed."
If Morrissey, who finished 28th at state as a junior, is setting the example for the rest of the T-Birds, Brown has to be pleased with how the season has started for the senior.
Morrissey opened 2017 by winning his division at the Capital Invite, besting a strong group of competitors from more than 35 teams, in a personal-best time – a feat that led him to being named one of Washington Interscholastic Activities Association's Athlete of the Week recipients for week two (September 3-9).
"The team has grown a lot. We're a lot more unified," Morrissey said about this year's squad. "We all ran together last year and we're all pretty tight this year. This is the closest a group has been since I've been on the team."
"It's great to have all the guys back," Knight said. "We all work together as captains. We all bring different strengths to the team. We just want to improve on what we did last year."