Some companies applaud employees for giving back, giving kudos at meetings or recognition at events. But for the partners at SCJ Alliance, it's much more than that – giving back is part of the company culture, part of their DNA. In fact, their first core value is stewardship, which includes empowering their team to make choices that service their clients, community and company. Compassion is also one of their core values, which they define is a "desire to help when a need is discovered."
Amy Head Serves the YMCA
"I have lived in this area for about 14 years and have come to really love it and consider it my home," says Amy Head, principal at SCJ Alliance. "I am fortunate to have a great job where I am encouraged to be active in my community so I have taken that to heart and have tried to be active where I can." Head has been a member of the South Sound YMCA for about 14 years and started volunteering six years ago. She has been on the YMCA board for five years and is currently the board chair for the Briggs YMCA Advisory Board. She also attends many fundraisers throughout the year for other organizations, showing support and leadership throughout the community.
Head uses her business acumen as a company owner and project manager to help the YMCA run smoothly and continue to move forward. "My other skill is to bring folks to the table at our fundraising events that are equally passionate about helping the community and put their dollars to work," she adds.
Jean Carr Supports Small Business
Jean Carr, senior principal at SCJ Alliance, feels drawn to helping other businesses, which bolsters the economy and provides jobs.
"I am particularly drawn to organizations that represent and support local businesses such as Chambers of Commerce," she says. Carr is a member of the Board of Directors for the Lacey South Sound Chamber of Commerce, co-chair for the Chamber's Education Committee, and sits on the Executive Committee for The Round Table of Thurston County. "Small businesses play an important role in providing employment opportunities and in the economic vitality of our community. Business organizations may not be as compelling on the surface as many charitable organizations, but they play an important role by providing a platform for making connections, participating in community events, providing input on important community issues, and offering support to both new and established businesses."
Carr's passion for education and business has led her to helping on the Education Committee for the Lacey Chamber of Commerce. "As co-chair of the committee, I help develop the agenda and focus for the group, work on special projects the committee takes on, and coordinate with other committees where applicable to combine our efforts," she says. "It's an exciting combination of my passion for both education and business."
Eric Johnston Connects the Community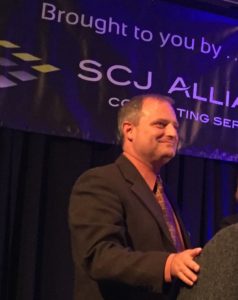 Eric Johnston, principal at SCJ Alliance, considers the work he does outside his "day job" as an integral part of it. He is on the board for the Thurston County Chamber of Commerce and, in the past, has been involved with the Association of Washington Business through their Leadership Institute. Through his work at SCJ Alliance, Johnston deals with private business owners, public agency staff, elected official, school districts and tribes – basically our entire community. "The interaction between all these groups is really our community in action and we (SCJ) are often standing right in the middle of that intersection," he says. "I don't really see it as giving back – it's about finding ways we can help our community."
Since SCJ Alliance's business revolves around planning and development, the team has knowledge and experience to share with organizations they support. "I have participated in the Board's strategic planning efforts, including visits with local government agencies and businesses to identify ways the Chamber can facilitate business growth, workforce development (which includes several programs in local schools) and improved relationships between businesses and government agencies," says Johnston.
Perry Shea Helps Engineer Change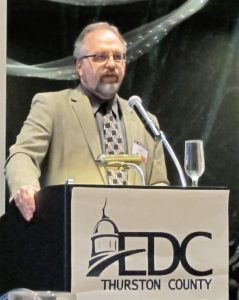 Perry Shea, senior principal at SCJ Alliance, is the Thurston Economic Development Council (EDC) board president and has been on the board for five years. He is also on the board for the South Puget Sound Community College Foundation and was a board member and chair for the Tenino School District for nine years prior. He and his SCJ Alliance team have been involved in many projects that use their expertise, including helping develop the process and framework in completing a five-year strategic plan that led to the creation of a Thurston Strategic Alliance Fund and partnerships with civic leaders, private enterprises and leading professionals in our community.
"My professional background as a registered engineer has helped the EDC evaluate site assessments for leveraging new businesses and retaining current businesses in our region," Shea explains. As part of his work with the SPSCC Foundation, the firm partnered with the college to develop a trail system along Percival Creek that allowed the reopening of the popular foot bridge.
SCJ Alliance Puts Their Expertise to Work for Others
While SCJ Alliance is often hired for their expertise, many organizations look to SCJ's team members for volunteer leadership role or to lend a set of expert hands. Being an integral cog in the community is really what the SCJ Alliance team strives for, no matter the job at hand. And while they do give monetary donations, the lending of their hands (and minds) is perhaps their most valuable donation.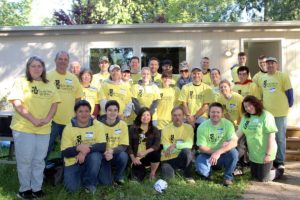 The team has contributed thousands of hours to improve the communities where they live and work. SCJ individuals are involved in leadership roles with the Hands On Children's Museum, Lacey Chamber of Commerce, Boys & Girls Club of Thurston County, Capital Land Trust, Thurston Economic Development Council, Rebuilding Thurston County, United Way, Habitat for Humanity, West Olympia Community Visioning Group and many other non-profit organizations throughout the area.
The bottom line is that for SCJ Alliance, giving back is something they get to do, not have to do. "Being engaged and involved in our community is rewarding and fulling," says Shea. "I enjoy the passion and commitment that comes from being active and contributing to the missions of the boards that I serve on."
Team members feel the same way.
Sponsored