How do you improve on perfection?
Having your summer workout program led by one of the nation's top collegiate mid-distance runners is a pretty good start.

During the summer, before practice even starts, it's become a tradition for the Tumwater High School volleyball players to get together and workout as a team. Three state titles, two earned in the last three years, shows the practice has certainly proven to pay off.
This year, however, with the loss of a very deep and talented senior class due to graduation, the Thunderbirds were looking for a little something extra as their young squad looks to defend their 2A state championship.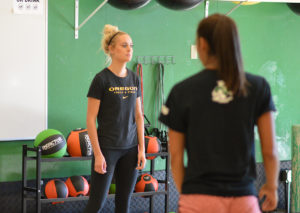 Enter former T-Bird great and current University of Oregon track and field All-American Brooke Feldmeier.
Feldmeier, a 2014 Tumwater graduate and incoming senior at Oregon, spent the summer training the T-Birds' volleyball players, guiding the team through workouts, which included cardio and weight lifting, Mondays through Thursdays.
"(Coach) Tana (Otton) messaged me and asked if I would be interested in coming out and training with the girls," said Feldmeier, who earned first-time All-American honors last year in the 800, finishing third in the event at the NCAA Championships. "I was just going to be home training on my own so I thought I would give it a try. It ended up being beneficially for both sides."
The training has proven to be incredibly valuable for a program that looks to replace several spots in their rotation.
"The coaching staff felt it was important that someone not on staff come in this summer. I saw Brooke was in town and thought a track athlete that has been training for years and years at a high level would do awesome," Otton said. "The training that a sprinter does is very similar to the things we want for our volleyball players. She is tough on them, which I love."
Taking over the training sessions added to an already busy summer for Feldmeier, who was also taking three summer courses in order to graduate this winter with a degree in general science.
"I think it was way different than what they were used to. I don't think they were expecting some of this stuff," Feldmeier said. "Honestly, they've dealt pretty well with it, and I think they enjoy it. So it's been fun for me to come and help out."
Feldmeier's hope is to run professionally following the 2018 indoor collegiate track season. After that, however, Feldmeier hasn't ruled out coaching as a career.
"I've played around with the idea of maybe being a teacher," Feldmeier said. "Teaching runs in my family. My brother just became a PE teacher at Tumwater Middle School. My grandfather was a principal and my grandmother was a second-grade teacher. So it's in the blood and I am interested in coaching."
Feldmeier's pre-season prepping could go a long way in helping the T-Birds in their attempt to become the first 2A program to win consecutive state titles since Pullman accomplished the feat in 2011.
Last year, Tumwater put together arguably the most dominating season by a 2A school since the classification was formed in 1998.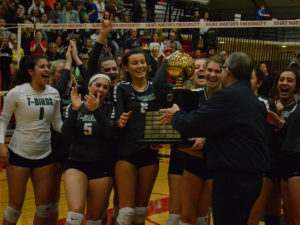 The T-Birds went a perfect 22-0, ending the season by defeating Woodland in straight sets, 25-22, 25-18, 25-18, in the state championship match.
Tumwater, which also won state crowns in 2008 and 2014 and were runner-ups in 2007, 2011 and 2012, opened last year by defeating 4A powerhouses Bellarmine Prep, Curtis and Emerald Ridge before crushing their 2A Evergreen Conference opponents, winning all 10 of their matches in sweeps.
It was more of the same once the postseason hit as the T-Birds swept all four of their state opponents, including 2016 state champion Burlington-Edison in the quarterfinals.
Gone from that juggernaut of a squad is first-team all-conference selections Maddy Pilon and Cristina Hegarty and second-team selections Bella Najarro, Brooke Hare and Ali Smith.
Tumwater does, however, return senior Kennedy Croft, a four-year starter and last season's Gatorade State Player of the Year.
"It's actually a cool challenge," Croft said about leading the young team this season. "We lost a lot of seniors, but everyone in the program is ready to step up. Everyone knows each other. It's just about stepping up because JV is completely different than varsity. I think they'll do it."
In addition to Croft, Tumwater also returns senior defensive specialist Mia Basso and sophomore outside hitter Savannah Sleasman.
"Last year is last year's team, but we have the same goal," Croft said. "We want to win state. So, we're going to talk about how hard we went in practice (last year) and make it the same."
The T-Birds begin their quest towards back-to-back titles on September 5 when they host Curtis.