For twelve years, Christian Skillings and the talented staff at Olympia's Iron Rabbit Restaurant and Bar have put creative purpose to the test, pushing the limits of flavor and service. The result? A unique dining experience, equal parts comfort and class, a meal that satisfies.
"At the Iron Rabbit, you interact with a professional service team," explained Christian. "To be a member of our team requires not just an engaging personality, but a constant drive to better yourself."
One way Iron Rabbit repays employee commitment and performance is through their service charge model. A flat 18% service charge is included on all guest checks. That fee is then redistributed and transformed into higher wages for all staff and opens the door for benefit expansion. This innovation, seen in restaurants more and more, is a way to share the wealth with the entire team, even those behind the scenes, diligently working to make each visit your best.
Iron Rabbit keeps things fresh and fun with a revolving menu. While gourmet burgers will always be a specialty, each new season brings fresh ingredients and opportunities for the culinary team to create dynamic and unforgettable taste combinations.
While nearly impossible to choose just a few 'must-try's', Christian does recommend stopping by this summer for these tasty bites:
 Veggie Focaccia Sandwich
A house made veggie patty, Tillamook white cheddar cheese, pesto aioli, spring greens, tomato and French carrot slaw
Curry Fish and Chips
Three pieces of Alaskan true cod, hand-dipped in our curry beer batter, panko encrusted, slaw, fries and curry aioli
Anything from the Refreshing and Savory Hoppy Hour Menu
Every day, 3:00-5:30 p.m. and 9:00 p.m. to close, you'll find affordable eats and delicious drinks, from wine by the glass, to the Iron Margarita to 20oz craft beers for only $5.
"At the Iron Rabbit, we have an open kitchen where you can watch our culinary team work, building nearly every dish and side from scratch," Christian explained. "For us, it's all about inspired dining. We take defining Pacific Northwest qualities and infuse those elements into your dining experience." 
The Iron Rabbit's new Staircase Martini is the perfect example of this idea put into practice.
For anyone who has walked the trails of Staircase in Olympic National Park, you know the quiet grandeur that overcomes you with each step below the towering canopy of trees, the way the powerful rapids become your cadence and the zing of delight when you journey across the new bridge for the first time. Imagine each of these moments, captured as flavors, shaken and adorned with a delicate citrus twist.
 The Staircase Martini
Chuckanut Bay gin, Fregola wild strawberry liqueur, elderflower liqueur, Fernet Francisco – shaken, with an orange twist 
But Iron Rabbit is more than a restaurant. In addition to inspired dining and one of a kind cocktails, you will find a local business steeped in the values of altruism and environmental consideration.
"The Iron Rabbit works hard to reach beyond the restaurant's walls and into the community. We continue to strive to uphold sustainable practices, such as compositing, and buying local when we are able," said Christian.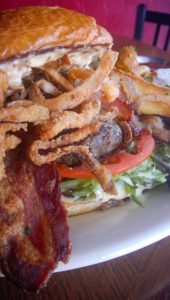 Iron Rabbit knows that great food and positive interactions have the power to bring communities together and that is why you will continue to see their presence and support for organizations and programs such as Summer Movies in the Park, the Olympia Farmer's Market and Family Support Services of South Sound.
"All in all, Iron Rabbit is a place for conversation," concluded Christian. "The work we do is a little theater, a little performance and that's what keeps it interesting.  Whether you are stopping in for date night, enjoying a meal with family or simply catching up with friends, we offer the service and culinary expertise to make your visit one to remember."
Iron Rabbit Restaurant and Bar is at your service daily. Find them online or in person at:
2103 Harrison Ave NW, Olympia
360-956-3661
Sponsored