It's happening far more frequently. Keith Edgerton will be out in public and spot someone wearing an Olympia Lacrosse Club t-shirt.
"We're seeing them more and more when we go out. I will be with my wife and she'll point someone who's wearing one out to me and ask if I know them," said Edgerton, who is the girls' high school coach for Olympia Lacrosse. "I usually don't know who they are. It's pretty exciting."
Apparently, word's out on lacrosse in Thurston County.
The nation's fastest growing youth sport, lacrosse has established quite the following locally over the last few years and the Olympia Lacrosse Club has certainly played a large role in that.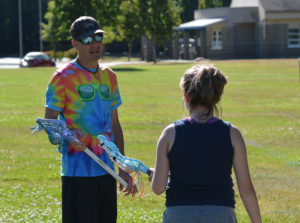 The club was inaugurated three years ago with 22 players. They ended this past season with a combined 122 players, and according to coach Winston McKenna, they anticipate surpassing 150 players this upcoming season, which begins in February and runs through May.
"I was shocked," said Edgerton about how fast the sport's popularity increased in the area over such a short period of time. "We saw a 500-percent growth in our second season in regards to the number of teams we had. We went from one team to five. Things leveled out last year in terms of teams, but our numbers continued to grow."
The club currently offers boys' teams from third grade through high school, and a high school girls' team. They plan to add more girls' squads this upcoming season.
"Our hope next year is to have third through eighth grade girls' lacrosse," said McKenna, who coaches the boy's seventh- and eighth-grade team.
OLC has hosted four lacrosse skill sessions in July, providing returning players a chance to continue to develop, while introducing the sport to newer players.
The club will hold one more summer skill session on Wednesday, August 2 from 5:00 – 7:00 p.m. at the Olympia Regional Learning Academy. The session is $5 to cover field rental costs.
"Summer time is just an opportunity to keep sticks in their hands, work on their skills and build camaraderie," McKenna said about the need for summer skill sessions for returning players. "For new players it gives them a chance to try out the sport. We just want to give everyone an opportunity to learn. We're a very inclusive club. Anyone can come out."
The Olympia Lacrosse Club also offers private lessons up to five players per session. These charged lessons can be position specific or basic skill focused for newer players.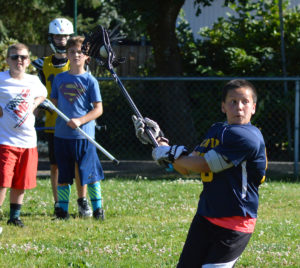 "I would say third grade is a great time to start because the kids are learning fundamentals, but this is a sport someone can start when they're 13 or when they're 33," McKenna said. "It's a much easier sport to learn than a sport like football. It's dynamic. Everyone is always moving. If you've played basketball or you've played soccer, the aspects are a little easier to pick up."
The club will also offer a variety of free clinics in the fall and late winter prior to the start of the new season.
"We provide the sticks and give kids the opportunity to come out and see if this is something they like," Edgerton said. "At the same time, if a parent contacts me and says their daughter is interested in this, but they've missed all the clinics, we're going to get them out to a practice."
Once someone is introduced to the sport, however, Edgerton and McKenna are both finding the individual tends to stay involved as the OLC has experienced minimal turnover since its inception.
"I don't think we've lost any kids because they didn't like lacrosse after going a full season," Edgerton stated. "We've had some move away and we've had some that were just over committed to other activities. But both boys and girls just seem to fall in love with it."
One recent aspect, Edgerton stated, that shows the anticipated continued widespread growth of lacrosse in the area is the fact that when Capital High School installed its new field turf it included lacrosse lines.
"That's a huge win for us," Edgerton said. "That's a real game changer to have a turf field in town."
Edgerton also added that next summer when Olympia High School installs field turf on the North Street field it will include lacrosse lines as well.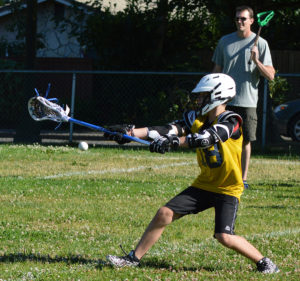 "We're just extremely pleased with how our board has tackled this sport with the premise, first and foremost, that we're here to have fun and we're here to help these young kids and young adults become better people and better players," Edgerton said. "I think we're doing it the right way. It just takes time. The kids have been super enthusiastic and have been spreading the word, and that's been helpful. It's getting more established. It's not just this new sport that no one knows anything about anymore."
To learn more about Olympia Lacrosse Club, visit them online.