The frustration of a failed moment, a regrettable comment or a muffed assignment haunts us all. And Ace Bulger's advice is healing. Just forget about it and move on. The "should of's, could of's" of life plague us all.

For Bulger, it was his infamous "dropped ball" moment. It was 1970 and Bulger was a starting tight end for the University of Washington football team. With Bulger's sticky fingers and good speed, then coach Jim Owens said that Bulger was the best tight end he had ever coached. He was a pro prospect.
But in the closing minutes in a game against the Cal Bears and with the Huskies trailing 31-28, Bulger dropped a desperation, fourth-down pass from a scrambling Sonny Sixkiller. With a TV audience watching, there was no place to hide. And 33 years later, at a friend's wedding, Bulger introduced himself to another guest.
"I've been wondering about how you have been doing since the California game," the stranger said. A dropped ball, a muffed pass could have been a defining moment, one that undermined and instead of building up.
Today, Bulger, 68 and living in Olympia, is a life coach offering words of hope and healing. After a career as a teacher, a principal, a football coach and a financial advisor, his role as a life coach puts it all together, assisting those who are struggling to get help and offering words of encouragement.
His mission is "to make a positive difference in the lives of others, helping them create the future they would like to live." It's all about building a better tomorrow.
"One of the things God did for me is to help me see people's talent and place it," Bulger said. "I was really good at finding good teachers to become administrators. To see good things in them. It's a gift to be able to find and edify people and to find better things."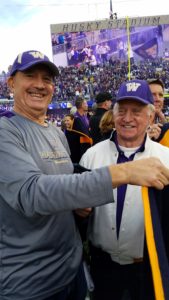 Those pats on the back, the compliments, also give people direction. Sometimes they don't know what to do and they're asking themselves "What am I good at?"  On his business card, Bulger, as is his nature, has written down some prodding and helpful comments. One asks the question, "What do you do when you drop the ball?" Another says, "Hold on. Let go. Take on. Move on." Helpful advice for someone struggling with a problem.
As he prods others to strive forward, Bulger is certainly a drink of water in the desert. He'll hand out cards that say, "You make a difference." It's another reminder of our impact on others.
"Ninety-nine percent of the time when I give a card to someone it's because they're being a real positive difference," Bulger said, then added with a smile, "But it could be I give it to somebody who is being a real jerk."
Bulger can certainly relate to the heavy hearted and downtrodden. Five years ago, his beautiful daughter, Alicia Marie, who was suffering from depression and mental illness, committed suicide. Overcome with sorrow and remorse, it could have been easy for Bulger to have retired, lamenting the loss of his daughter. Instead, he's used that sorrowful moment to help others with suicidal tendencies.
Recently, as a representative for a mental health care organization (NAMI), he presented House Bill 1336 to the state legislature, which addresses suicide prevention in schools.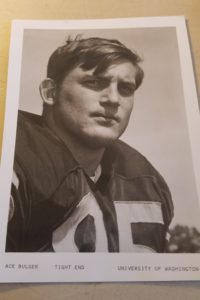 Since his daughter's death, he's added mental illness and suicide prevention to his work load. "I don't want this to be in vain," Bulger said. "You can say this about me. I'm not so much interested in death as I am in life. If we can get ahead of the curve and develop that network and do whatever we can with the medicine and the natural supplements, that's the goal."
While it's only a small part of Bulger's practice, he admits that more and more, his time is spent on the mental illness.
"But that's not where I started out," he explained.
As a life coach, Bulger listens to a person's story, about their regrets and about their goals. As he listens, he discovers their strengths and helps them use those skills to set and reach new goals. Bulger's objective is to help someone heal, improve their performance and clarify their purpose and vision in life.
Recently, Bulger talked with Huskies football coach Chris Peterson. In their discussion, Peterson talked about connecting Bulger with his players, helping them get through some personal problems.
"Chris said you'd be surprised at how many young men are depressed," Bulger shared. "I said if I can be a resource, I'd love it."
Several years ago, Bulger, in an attempt to keep himself on track, Bulger articulated his mission in life, and it became the mission of his business, too. "I'm committed to making a positive difference in the lives of others, helping them create a future that they would like to live."
So many obstacles get in the way of living that full life. It could be broken relationships, self-esteem problems or hanging on to past wrongs. Bulger knows that he has an impact on others with what he says and how he reacts to them. He relies on his Christian faith to open doors and to complete his work.
"I have to have grace, because if I don't have it, I can't give it away," Bulger said, reciting a life goal of his. "I draw from your grace each day for myself and I extend grace to everyone I meet daily and live in abundance mentally – a cup overflowing."
To read more about Bulger's life coaching go to his website at acebulger.com