They hear the same inner voices, the "you're too old" worries.
It would be easy for these graying senior citizens to just sit on the couch with their TV remote in hand, gulping down more snacks.
But instead, Dave Supensky, Rick Littlejon and Bill Moore, who are all older than 65, do the unexpected. They pick up their baseball glove and head to the ballfield, joining over 100 gray haired buddies to play in the Olympia Senior Softball League at the RAC in Lacey.
Now 79, a spry-looking Supensky has played softball every year since 1977, 40 straight years.
"There's a lot of reasons I keep playing," Supensky said during a recent softball game. "I enjoy it. It's good comradeship. The more you play the more guys you know. So, that keeps it interesting."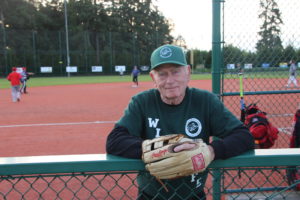 And the competitive juices are still flowing. "Yeah, and it's fun playing," Supensky said. "You see what you can do when you get older."
At 18, Supensky joined the Army and after serving 20 years and two tours to Vietnam, he retired in 1977. At the time, someone asked him to play on their slow pitch team. He hasn't stopped swinging the bat and scooping grounders since.
"If I had stopped and sat around on the couch and watched TV I probably wouldn't be able to play now. At my age, a lot of times your mind thinks you can do more than you really can," Supensky said with a chuckle. "You'll try, and 10, 15 years ago you could have done it. I think I can do it, but then it doesn't work."
But when Supensky ran to first base after knocking a hit into left field for a single he didn't run like an old geezer. He's still got game.
Even though the calendar tells Rick Littlejon he'll be 68 in late July, the way he swings a bat says he's still got game. With some pop still in his bat and his knack for chasing down line drives, Littlejon is still the glove and bat coaches want on their team. He plays for several teams, including an all-star team in California that flies him down to play in tournaments.
Littlejon, who has been playing softball since he was 20 and still plays in about 150 games a year, has been inducted into the National Senior Softball Hall of Fame. But, when he was in his 40s, Littlejon was thinking about quitting.
"I was so beat up," Littlejon said. "I just decided I was going to quit. The next thing I know I'm almost 68 years old and I'm still playing."
Littlejon's desire to play still outweighs the hang-it-up urges he hears in his head. "None of our bodies are okay," Littlejon said as he watched some seniors play softball recently at the RAC. "I've had a couple of surgeries, cortisone shots in a couple of places. But actually, like a lot of guys out here, I work out almost every day. Do different things to keep in shape and keep my weight down. And if I didn't do this I'm not sure what I'd do."
Littlejon, who graduated from Yelm High School in 1967, has talked about quitting softball, hanging it up, but keeps coming back year after year. "I talked to my wife about hanging it up," Littlejon said. "I've played for a long time. I've accomplished about everything I can in senior softball. As the season progresses and winter is gone and the body doesn't hurt as bad, I love it again. Really, as the skill goes down being out here is even more important."
Now 66, Bill Moore has always been involved in sports, playing baseball since he was a kid. But he didn't start playing softball until he was in his 40s when his brother asked him to play for a team in Seattle. Then, when he turned 50, he saw an advertisement in the newspaper about tryouts for the Olympia Senior Softball League.
"So, I went out and I've been playing ever since," Moore said.
Besides playing two games every Wednesday in the Olympia Senior Softball League, he plays 10 to 12 tournaments a year at places like Reno and Las Vegas.
"I do love my TV and hanging out sometimes," the spry Moore said after a recent slow pitch game. "But I just like to get out and do something. Exercise is great. Even if it's just walking." But Moore, with a bat in his hands, prefers swatting a single or double than getting a walk. He's a believer in the saying "use it or lose it."
Moore and the other seniors know it's easy to say I can't do this anymore. Accidents do happen on the softball field. Bill Rankin, 71, recently fell and broke three ribs as he was running the bases.
"I'll be back," Rankin said. "I love it. I'm not going to sit and just watch TV."
Despite the risk of injury, Moore and everyone else just keep coming back. "It's a great group of guys," Moore said. "There's a lot of camaraderie. It's a pretty tight-knit group of ballplayers. Plus, you have the opportunity of staying active. If you have competitive juices, this is a great way to keep that going. We're not as intense as the young kids, but it still can be pretty intense at times."
Moore, who still works for the state in the community college department, knows it's important to stay active. "Plus," he says, "it's just fun."
To learn more about the Olympia Senior Softball League, visit them online or contact Pete Boeckel at 360-584-5033 or peteboeckel@comcast.net.