For Elene Garcia and Alejandro Romero, volunteering helped the college students discover what they feel is their true calling in life. Garcia and Romero are currently on staff for the summer at ROOF Community Services, a non-profit organization in Rochester.
ROOF, a non-profit organization based in Rochester, provides tutoring services, learning activities, school supplies, Christmas gifts, and a food bank for low-income families. ROOF opened its doors in 1993 after a group of parents recognized the need for more positive activities for students in the Rochester area. Staff and volunteers focus on assessing community needs and finding ways to help meet them.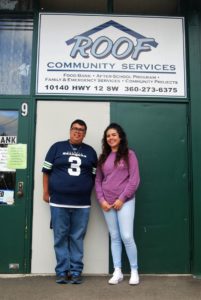 Garcia says she became connected to ROOF as a recipient of services in elementary school. In sixth grade, she became a ROOF volunteer. Over the years, she has helped students with homework, tutored small groups, and supervised large groups. As an employee, she does many of the same tasks, but also helps create learning games and materials, as well as lead crafts, games and cooking classes.
"Ever since I moved to Rochester, ROOF has always helped my family. They supplied Christmas gifts, after school care and tutoring and activities, and materials for school projects. Volunteering was a way to stay connected," explains Garcia.
She's logged in almost 1,700 volunteer hours in six years, and at 16, became a program staff member. Garcia says she credits ROOF's services and her volunteer time there for her own success in school and sports, as well as for helping her decide on a course of study when she begins classes at Centralia College in the fall.
"ROOF taught me how to work with families who are in need, so now I want to focus on a career helping families, probably as a social worker. The kids here have all different kinds of needs and knowing how they react to the different ways adults treat them will be a big help in this career," Garcia says.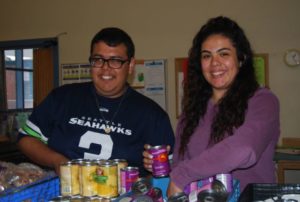 As a volunteer and staff member, Garcia says she has forged strong bonds with many of the students and loves it when they call her by the special nickname, "Nene," give her hugs, and tell her how much they miss her when she's not there. It's that kind of connection Garcia says she hopes to bring to families in the future.
Romero's volunteer days with ROOF began when a friend told him in seventh grade about the organization. He's been volunteering or working for them ever since.
"I went in one day to check it out and liked it, so I started volunteering. I'm not a very 'sporty' person, so ROOF became my extracurricular activity. Being able to know I was making a difference in someone else's life and making their life better is what keeps me here," Romero explains.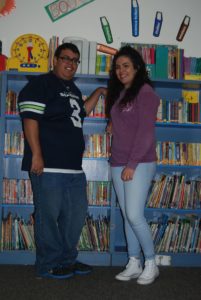 Romero also credits his time at ROOF for helping him choose a career path, and for having the courage to run for office at Centralia College, where he was elected vice president of the student body. He took a break from ROOF to focus on that role, but returned this summer as a staff member. Romero began work on his bachelor's degree in Spanish and elementary education last fall, when he transferred to Western Washington University in Bellingham.
"From working with ROOF, I realized that I really do enjoy working with kids, no matter what they are like. Many of them speak Spanish, so studying Spanish will help me with these students and their parents. I love that they see me as a friend, and someone they can trust," says Romero.
Romero's volunteer time at ROOF also helped when he applied to become a staff member for Western's Compass to Campus Program, which puts mentors in Whatcom County classrooms.
"Working and volunteering for ROOF totally prepared me for that experience, and to be an educator," he says.
Kellie McNelly, Executive Director of ROOF, says these two students can be proud of all they've accomplished as volunteers and is grateful for all they do for their community.
ROOF will hold their annual back-to-school supply drive and distribution in August. For information about this event, or to learn more about volunteering, visit www.ROOFCommunityServices.org.