Submitted by City of Olympia
Join us to kick off the exhibition of 15 new sculptures along Percival Landing, meet the artists and cast your vote for the 2017 Peoples' Choice Award recipient. The event is Friday, July 7, 2017, from 5:30-7:00 p.m. at the Harbor House on Percival Landing, 325 Columbia St NW.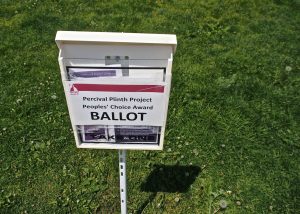 Can't make the kick-off? The voting period lasts through July 31, 2017 and ballots are available July 7 along Percival Landing next to the sculptures. Voters must personally visit all 15 sculptures, and completed ballots submitted in person at The Olympia Center, 222 Columbia St NW (conveniently located right next to Percival Landing), the Boater Moorage kiosk or mailed in.
About the Percival Plinth Sculpture Project:
The Percival Plinth Sculpture Project selects fifteen sculptures each year to be displayed on the City of Olympia's Percival Landing. During the month of July community members and visitors have the opportunity to vote for their favorite. The sculpture with the most votes will be awarded the People's Choice Sculpture Award and be added to the City's permanent art collection. After you turn in your 2017 ballot feel free to visit the 2016 winning sculpture Joie de Vivre by David Varnau currently on display at Olympia City Hall.
Featured Work:
Ribbon by Rodger Squirrell
Peace Dove by Charles Fitzgerald
Fat Tire #2 by Lance Carleton
Stargazer  by Timm Duffy
Sentry by  Kevin Au
Fossil II by Lin McJunkin & Milo White
Aqueous by Cyrra Robinson
The Wisdom Seeker by Leon White
Wounds of Time by Grant Walker
Midori Spring by Ann Fleming
Diana's Quiver by  Karsten Boysen
Earthsound by Jon Kalin
Doryman by Louise McDowell
Embrace by Ken Turner
Growing II  by  Jesse Swickard