When you order a pizza at Pizzeria La Gitana in Yelm on June 21st, you'll get more than just a tasty meal. For every pizza sold that day, Olympia Federal Savings will donate $10 to Yelm Dollars for Scholars, a fund that provides scholarships to graduating seniors at Yelm High School. The 'Cash Splash' is a collaborative effort held solely at the restaurant's Yelm location.
The idea came about after the success of a similar event in Olympia at the new 222 Market, says Olympia Federal Savings Yelm branch manager Jane Walker. "We're always looking at how we can help our small business clients get some exposure and support the community at the same time. Dollars for Scholars is a beloved program in the Yelm community that we've been supporting since we moved into the area, and La Gitana is one of our clients, so that's how this started."
Dollars for Scholars is a national program that Yelm Community Schools adopted 21 years ago. Every dollar raised goes directly to scholarships and any leftover monies go into an endowment fund. The goal is for the fund to reach $1 million, says Yelm Dollars for Scholars president Kerry Pritchard. To date, they've successfully raised half of that amount.
Since 1991, the program has given away more than $2 million in scholarships to Yelm High School seniors. Students apply through Scholarship America and then go through an interview process with local committee members who don't have children eligible that year. Once they've been awarded a scholarship, they have to complete their first semester of college before they can collect. Any monies not collected by May 1 go back to the Endowment Fund and are used for later scholarships.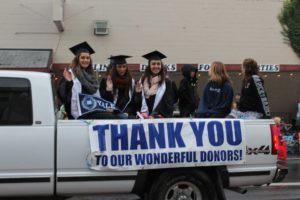 Although no applicant has yet been turned down, Pritchard warns that simply applying does not automatically imply success. "There's no guarantee," she says. "Every year we try to make sure that every student who qualifies and successfully applies receives something, but that's subject to change, depending on a few variables."
When the awards are announced, students get very excited. "For some, it's the only time their name gets called out," says Pritchard. "It's so important that they receive recognition and they are honored." This year the fund gave out $113,000 to 90 students through Dollars for Scholars, and an additional $19,000 through specific programs created by donors with their own criteria.
Pizzeria La Gitana owner Marian Licxandru sees the Cash Splash as an opportunity to invest in the community. "Education is the backbone of a society. We're investing in the kids that are eventually going to run the world. That's what's at the heart of this partnership," he says. He's also hoping the event attracts new customers who may not have tasted their pizza before. "Whether you've tried us or not, this is a perfect time to meet again," he says, smiling. "It will be love at first bite, for sure."
At the restaurant's Olympia location, Licxandru routinely donates 20% of proceeds to different non-profit groups on given days, but this is the first such event at the Yelm location. "We're hoping to make it a busy day," he says. "I know the community will support us on this project."
Walker is counting on it. "We'd like to see as many pizzas go out the door as possible," she says. "It's a celebratory day for kids and families and a great way to commemorate the last day of school."
Events like the Cash Splash are typical of Olympia Federal Savings, which supports local nonprofit and community efforts wherever it has a branch. The company set a minimum threshold of giving away five percent of its profits every year, but for the past several years the amount has been closer to 10 to 15 percent shares Ryan Betz, Oly Fed marketing and public relations manager. Last year, OlyFed gave away $350,000 in support of more than 300 organizations. Additionally, employees volunteer hundreds of hours every month for community events and activities.
"It's ingrained in the culture of the organization," he says. "We have a great culture of service. Our philosophy is that by putting people first and doing the right thing, we'll be successful in business."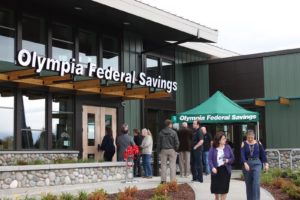 The support of Yelm Dollars for Scholars by the business sector is critical, says Pritchard. "I'm blown away by the community and how businesses in our area support the students. It brings a sense of belonging, community and family that so much of our nation has lost. We're so grateful for all of the donations that come in and they really do make a difference."
Betz believes that programs like Dollars for Scholars are important to the vitality of our region. "These young student leaders are our next business owners and civic leaders," he says. "The more opportunities we can provide them, the better off the community will be in the long run."
So, take the night off from cooking on June 21 and enjoy lunch or dinner out at Pizzeria La Gitana in Yelm. Your pizza will taste even better knowing that Oly Fed is donating $10 per pie to support a Yelm student reach their dreams.
Sponsored