Summer break is nearly here and South Puget Sound Community College Athletics are gearing up for their best summer camps yet, with Girls Volleyball hosting their first ever camp July 10-13 and Boys and Girls Basketball making their return July 17-20 and again July 28-30.
Athletic Director, Vernell Willingham, describes what it is like to train with the Clippers.
"Our coaches provide leadership and guidance through training development of fundamental skills and they create a relationship of trust throughout the game. What sets SPSCC summer sport camps apart from other camps is more one-on-one skill development by the coaches and players."
"When camp ends, our hope is that we have built confidence in the athletes' abilities and a greater awareness of teamwork," he added. "Our summer camps give you a chance to work on skill building individually and then put those skills to work in a fun and rewarding team environment."
Past participants might be familiar with the basketball program's Live.Learn.Hoop.  Since 2010, Clipper's Basketball has used this name to promote all of their youth programs, from summer camps to tournaments to holiday clinics. With the addition of volleyball to the summer camp program and their eyes set on soccer for the future, Live.Learn.Hoop. has taken on a new name that all the sports will share:  SPSCC Summer Camp.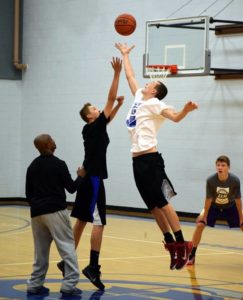 While the name may have changed, the program you loved is the same, still focused on teaching young athletes the fundamental skills of basketball combined with tools to take control of their mental game.
Two sessions are available this summer for young basketball players depending on age.  Both camps however, will provide players with feedback and instruction on every level of play including, basic drills, defensive fundamentals, rebounding, ball handling, shooting and passing.  Each and every individual that truly wants to learn and grow, will.
Head Volleyball Coach, Melanie Miller, echoes the importance of addressing mental toughness in addition to fundamentals as she sets out to host the college's first volleyball camp.
"I am really excited for our first camp. I love giving back and it is a wonderful opportunity to get the word out about Clipper Volleyball," Miller said. "It also gives my players the opportunity to coach and deepen their understanding of the game and their connection with each other as we head into next season. You need three good plays, by three different players, just to make one point in volleyball, so teamwork is essential."
The first three days of volleyball camp, training will be centered around skill building, developing mental toughness and positive self-talk training.  Players will work side-by-side with the Clipper's talented women's volleyball players, Coach Miller and special guest coach Ray Nunn. Morning sessions will be geared toward younger/beginner players, while afternoon sessions will be open to high school/experienced players. The last day of camp, players will have a chance to put everything they've learned to the test in a series of games and competitions.
For Athletic Director Willingham, the benefit of summer camps extends beyond the refinement of skills and technical play. For him, camps are about community:
"One of South Puget Sound's core themes is to 'Build Community.' The reason behind our SPSCC Summer Camp program is twofold. First, it builds the community within our own teams and players. It provides the opportunity for our coaches to demonstrate their expectations of the game to their college players and how they value teamwork. In addition, it creates a bonding experience between freshman and sophomore players, since camp is one of their first interactions in a team environment. It also provides the coach the opportunity to see who their leaders are on the team and how they can best utilize them on the court. The second reason, is because the summer camps create and build a relationship with our community members. It provides our student-athletes the opportunity to show their commitment to excellence in education as well as athletics.
To find out more or sign for camp check out SPSCC Summer Basketball Camps or SPSCC Summer Volleyball Camp.Let your young athlete experience the excitement of Clippers athletics first hand this summer by signing up today for one of their camps.
Sponsored