You don't need to remodel your entire home or spend a lot of money on interior design to make a big difference in your home's look. Improving the curb appeal of your house can really change the appearance and increase its value. "A simple paint job can do a lot to spruce up the exterior of a house," explains Jennie McDonald, co-owner of Lifespan Construction. Adding a punch of color to the front door can really help your house stand out. A bright yellow door on a gray house makes a big impact and doesn't require much effort.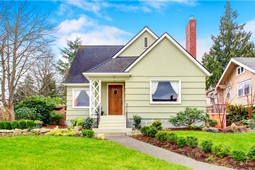 Perhaps you would like a more natural wood look that can be accomplished with a new door. "At Lifespan Construction, we can source beautiful wood doors that look older yet have all the safety features of a newer door," says McDonald. Installing a vintage style door on an older bungalow can really add the design detail that a house needs.
If you are looking to make a bigger visual impact, consider adding architectural features like corbels. Corbels are a type of bracket that can provide structure or simply give a simple home a bit more elegance. Jennie and Chris McDonald added corbels to the front of their own farm house. "Adding these architectural elements to the house and garage made a big difference in the look and style," shares Jennie.
Another inexpensive yet impactful option is to break up the feel of your exterior siding.  Many homes are made with T1-11 siding. This siding was especially popular in the 1970s and 1980s when many homes were being built. Changing the look of the vertical sheets of plywood can be easily accomplished with the addition of 2×2 strips of wood. This style is called board and batten. The smaller strips of wood are placed over the grooves and give the siding a bit more style. It is a very inexpensive option and can really add to the visual look of your current siding.
Adding some texture to your exterior with painted or natural wood shingles is yet another option according to Jennie. "Creating a second or third texture on the exterior of your home can give it an updated look," she explains. A small section of shingles below the eaves or around the front door can be added quickly without much labor and expense.
Lighting is another area that can give your home an upgrade. "There are so many cool outdoor fixtures to choose from," says Jennie. "Installing an eye means that you can choose almost any light fixture and retain all the safety and convenience of a motion sensor with a lot more style."
Visit the showroom at Lifespan Construction to learn about even more ideas to brighten up your home. The next house you admire as you drive down the block might just be your own.
Sponsored