When Olympia local Nicole LaPraim was in her early twenties, she was like a lot of young people – she didn't know what she wanted to do with her life.  Knowing that she needed to start on something, Nicole made the decision to attend a year-long, intensive massage school, a decision which would help to shape her future. Now, as the owner of Lacey's Ballaura Wellness Spa, she explains how that one choice changed her life.
"At the time, I was going through a lot of anxiety and depression," says Nicole. Massage school was her turning point when she learned to nourish and nurture her own body. "I developed a passion for health and fitness and my life changed when I changed my health." Nicole wanted to be able to share that personal experience with others.
After working as a massage therapist for a local chiropractor, then in an upscale salon, Nicole took the leap to open her own business and in 2008 Ballaura Wellness Spa was born. The name comes from her own maiden name of Ball and the word aura, the energy surrounding people. Her business took off and before she knew it she had more customers than she could have imagined. "I ended up with seven employees in my first year and I had no idea what I was doing. I was in the school of hard knocks and I didn't even know it."
The learning experience in her first year helped her restructure the business to a sustainable, thriving model that it is today. Now, Nicole spends part of her time with clients and the rest helping her talented staff succeed through a strong business structure.
And, with a newly opened location on Carpenter Road in Lacey, the group is ready to welcome new clients through the doors into the relaxing, soothing atmosphere. Multiple treatment rooms offer an oasis of calm from our hectic daily lives.
"I really love the business aspects, helping new practitioners start their career. It's also really exciting for me as a business owner to see the other women succeed and be able to be flexible with their business." As a single mom herself, Nicole says it's been important to support others in similar situations and the leasing model of Ballaura does just that.
Ballaura Wellness Spa has seven highly experienced massage therapists with room for one more. "It's amazing here. Everybody gets along really well and we've created an environment where everyone loves to be here," she shares.
The spa is focused on health and wellness in all aspects. Services include massage therapy and skin care aesthetics. Sports massage, addressing injury through massage work, relieving aches and pains related to computer and desk work and relaxation massage are a few of the group's specialties. And, with many insurances accepted and experience with navigating L&I and personal injury claims, Ballaura takes the stress out of getting well again.
Ballaura's specialty is sports and injury massage therapy. The team's vast experience addressing anything from weekend warrior muscle strain to post-surgical rehabilitation makes the therapists in-demand for active clients. Ballaura's goal, no matter the injury, is to get people moving again, enjoying the lifestyle they love.
In addition to body treatments, the spa has master esthetician Brittany Hicks onboard for a variety of skin treatments. Clients can get everything from facials, waxing, and peels to micro-blading, eyelash tinting and extensions, and micro-needling. Special occasion makeup as well as consultations are also offered. View a full menu of Brittany's treatments online.
Whatever your needs are, Ballaura Wellness Spa has you covered, even if that means just taking some time out for yourself. "Statistically, people that receive massaged more often experience lower doctor bills," shares Nicole. "Massage is great for people who sit at a desk all week to ease muscle tightness and reduce stress." One goal of Ballaura is to raise awareness of the benefits of massage beyond the perception as a luxury relaxation treatment.
And, if you've never had a massage before, there is nothing to fear Nicole assures me. "You are completely in control. I've given massages to people that didn't want to be touched by hands so I used hot stones. I've given massages to people who had some body issues and didn't want to be seen so I did compression through the sheet. We can facilitate whatever people's fears are. We are not here to judge you, we are here to make you feel better."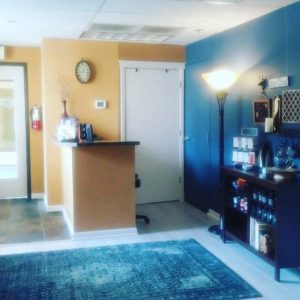 For the team at Ballaura Wellness Spa, it's all about sharing what they've learned from their experience and making a difference in someone else's life. Whether that is improving mobility through injury specific massage or reducing stress and pain from days spent at the screen, the massage team has both the experience and compassionate care philosophy to help. And, if your self-care needs include esthetic care, Brittany will have you feeling confident and cared for at each visit.
"Seeing people get motivated to change their life and change their health is our goal," shares Nicole. And the entire team at Ballaura Wellness Spa works tirelessly to make that a reality.
To schedule an appointment, visit Ballaura Wellness Spa online or call 360-539-7726.
Sponsored