Let's face it, moving is stressful no matter how you look at it. Whether you are selling your home or even renting a new one, it's not an easy task. You need to rent a moving truck, connect all your utilities, and that's after you find the perfect new place. The last thing you probably want to do is clean. Who really wants to pull out the fridge and stove and see what's been hiding back there over the years? I know I certainly don't. Luckily, Drew Freemantle and his team at Maid Perfect actually do. And, they can help make sure everything is as clean as possible when you leave for greener pastures.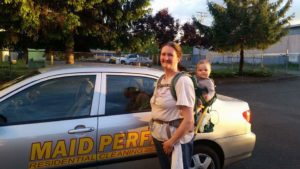 "If you've lived in your house for a while, there are lot of things you put up with that you might not even see anymore," Drew explains. "You get used to your own smells from pets and laundry, but somebody else walks into your house and they can be turned off by these odors." That's why Drew says it's important to leave it to the professionals at Maid Perfect, and spend your time focusing on all the other aspects of your move.
Drew's good friend Steve Pust is a realtor with Van Dorm Realty Inc., and a property manager. As a result, he spends most days looking at homes for rent or sale and agrees that a good cleaning can be what makes or breaks a decision. "A super clean home will give the prospective buyers or renters a clear vision about how they will feel if they live in the home. Many times, the person touring the property will assess the amount of work it will take to make the home ready for them."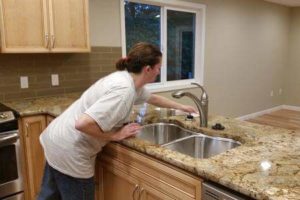 Drew adds, "You're used to the state of your home and you may think it looks alright, but you really have to look at it from someone else's point of view. That's their first impression. If they walk in and see one thing not up to their standard, then they are going to start looking for more."
Recently, Drew experienced this first hand in his own life when it came time to make a move to a new home. Although they found a home they were excited to move into, it was not at his level of clean. So instead of just unpacking, Drew was faced with the task of cleaning the whole home before he and his family could move in. This was on top of getting his previous home ready for new occupants as well. "I just want to enjoy my new home and relax. I want to spend my time with my little girl, not cleaning. I don't want to miss a second of her growing up because every single day she does something different and if I'm cleaning I might miss it."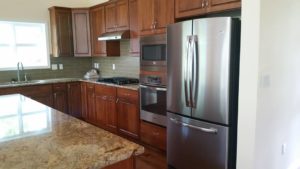 For an average move-out clean, a Maid Perfect team of two to three people will need about four to six hours to clean it top to bottom. If you were doing it yourself, that would be around twelve hours of cleaning – exhausting to even think about. And, chances are, it won't be the same level of perfection the Maid Perfect team achieves.
The good news is a move-out cleaning won't break the bank, with most homes costing between $300-$600. "We go out and look at a house," says Drew, "conduct a walk-through and then give you a price range. That way there aren't any surprises and you know what to expect."
According to Steve, you'll likely make that money back in the long run. "When selling a home, a prospective buyer will have more confidence that the home was well cared for if the home is super clean. It shows pride of ownership. And likewise, a dirty home indicates a possibly poorly maintained home." Because of this, a clean home is likely to fetch a higher sale price or greater rent amount, he explains. "I will always recommend that a person make their home as inviting as possible to any visitors. Cleaning is a very important aspect of this."
With moving season upon us, take a moment and think about what you want to spend your time doing and how Maid Perfect can help. Drew says you won't be disappointed and it's sure to make the transition much easier. "You have so many other things to worry about when you are moving, you don't want to be left cleaning. Plain and simple, moving is stressful. It's worth it to have us do the cleaning just for the peace of mind."
You can contact Maid Perfect at 360-402-6248 or by visiting their website and Facebook page.
Sponsored