When your child loves doing something, when it lights a spark in them, as a parent you'll do almost anything to ensure they can continue what they love. For Michael and Shannon Steadman and Jeff and Christy Lund, that "something" was dance for their daughters.
When the two couples learned the dance studio where their children had grown up together was closing, they knew they had to step in and do something about it, not only for their kids, but for all the dancers being displaced. Each dancer had close connections with their teachers. The whole group – dancers, parents, teachers – were like family. None of them wanted to say goodbye.
The four parents banded together and created Inspired to Move Dance Academy – a place where all dancers could continue their studies with their beloved teachers right here in Thurston County. The dance studio opened in May at 6706 Martin Way E, building #2 in Olympia.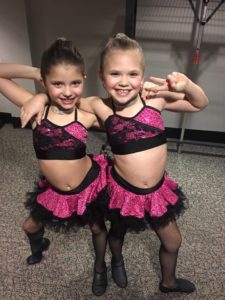 Christy and Jeff Lund's oldest daughter, now eleven, has been dancing since she was just four years old and their other four children have followed suit. Dance, and the inspirational instructors at their studio, had become part of their family's way of life and the lives of all the kids dancing there. "We didn't wake up one day and say, 'we want to start a business,'" Christy Lund says jokingly. "But the dance teachers are like family to all the students. Ours have known them their whole lives."
The owner of the previous studio gave Christy recommendations of studios to take her five children to, but none of them were local, making it harder on the parents' busy schedules. "Plus, we didn't want our daughters to lose their teachers and we knew other families were in the same boat," Christy says.
In addition, the Steadmans and Lunds knew that the caliber of instruction and competitive dance environment was the perfect fit for many local dancers looking for a challenging, competitive dance studio environment. Jeff and Christy's children have been in dance classes for the past nine years. Michael and Shannon's daughter, now thirteen, has been dancing since she was eight years old. Previously, Shannon even organized a club to fundraise for dancers wanting to dance at any studio in Thurston County. Their lives have revolved around dance for such a long time that opening a studio was not that big of a stretch.
"It broke our girls' hearts when they learned their dance teacher may be moving away," Christy explains. "This is their life. We are there five days a week. This is their main group of friends whom they have grown up with. And, we didn't want any of the dancers to have to split up and go in different directions. So, we decided to open our own studio. It's not about the business. It's about the kids."
A Studio for All Dancers



Inspired to Move Dance Academy will have classes for every age, starting at two years old, and suited to beginning to advanced dancers. And, while the studio will focus on a well-rounded dance experience, the founders are quick to note that it also offers competitive dance, focused on growth and participation in competitions.
"We want involvement and investment in the betterment of every dancer especially the young," shares Mike Steadman. "However, we also want to offer the highest-level dancers the chance to push each other and participate in a competitive team setting. I believe competition, just like commerce, brings out the best in you if the environment is a positive, enriching and caring one."
The wide variety of offerings, from serious competition to fun and fitness ensures that Inspired to Move offers something for all dancers – even adults. "We are going to have some fun, adult fitness classes that are going to be very popular, too," Christy says.
Inspired to Move's facility includes three studio rooms and nine instructors teaching ballet, tap, lyrical, jazz, hip-hop, contemporary and gym. They may add ballroom in the future as well. "Each instructor has a specialty in terms of type of dance and age," Christy says. "They are all really incredible instructors. Our goal is quality instruction in an environment where kids can learn and grow." Classes will be held after school and in the evenings from 4:00 p.m. to 8:00 or 9:00 p.m. offering convenience for busy families. Summer camps and sessions may be offered as well as the studio grows.
Dancers age two through high school are welcome. "It's a great way to keep kids busy and active," Christy says. "It was one of the reasons we got our own children involved in dance. If they are busy and in an activity doing something productive, we knew they wouldn't be out getting into trouble."
Christy also shares how dancing has taught her children many life lessons. "All the experiences they get through dance – going up on stage, talking into a microphone, gaining confidence and being part of a team – are not things I really thought about until they became involved in dance. It's been great."
Community Involvement
Involvement in the community is a core value for Inspired to Move Dance Academy. In addition to performances, dancers will participate in events such as the Lacey Fun Fair and local parades. Christy hopes to have the dancers visit an assisted living facility to perform for the residents as well. "It's a great way to teach the kids about community involvement and it is fun for them because they like to perform and show what they have learned," she says.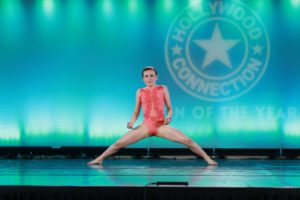 In addition, Christy and her husband Jeff are working on organizing a free class on Sundays for people with special needs. "It's something Jeff is really passionate about," Christy explains. "He has family members in wheelchairs and he really wants to create an environment where they can come, be comfortable, and engage in a fun activity geared just for them."
While the idea for Inspired to Move Dance Academy may have been sparked by the closing of a local studio and a desire to keep a group of dancers and teachers together, it has become much more. It is a community studio where dancers can learn, grow, develop and engage in a way that not only makes them better dancers, but makes them better people, too.
To learn more or sign up for a dance class, visit the Inspired To Move Dance Academy's website, follow them on Facebook, or call 360-259-1382.