Submitted by Rebekah Finn for Harlequin Productions
From May 4 through May 25, 2017, Harlequin Productions is offering a satirical glimpse into the behind-the-scenes life of a famous actor in the play Present Laughter by Noël Coward. The play is set in 1938 London, but the struggles and triumphs of a famous personality are relevant in any decade.
"Essentially, when you boil it down, it's a problem of celebrity," explains Harlequin's Linda Whitney, who is directing the production. "Imagine being Brad or Angelina," Whitney continues. (She's referring to Pitt and Jolie, respectively, of course.) At that level of fame, everyday tasks become multi-staffed affairs, and everyday decisions and relationships become the subject of public scrutiny. Whitney describes that complexity and scrutiny as the "high price of celebrity, even though there are a great many things to enjoy about it."
Present Laughter centers on the character of Garry Essendine, a successful actor who certainly enjoys the perks and pays the high price of celebrity, especially in his relationships.
"He is separated from his wife because he's a philanderer, and she can't take it anymore, yet she remains his best friend and business partner," Whitney explains. Rather than continue a romantic relationship, the Essendines have figured out "a more viable, less painful arrangement." Although she lives in her own separate house, Liz Essendine is still close with her husband and his staff. Liz's relationship with Garry's secretary is a compelling look at the connection between two mid-life women who share a deep care for and devotion to the same man.
Kate Burton, whom you might recognize from ABC's Grey's Anatomy and Scandal, plays Liz Essendine in a currently running Broadway production of the play. Burton's description appears in a Playbill article by Olivia Clement: "I thought Present Laughter was sweet, fun, and frolicsome," says the actor. "But now I realize what a brilliantly written play it is with such complex characters."
And what a broad range of characters there is, all interacting with each other, orbiting around the star, and getting themselves into complicated, hilarious situations. One of those characters is a young man who is fascinated with Garry but can't always keep up with social cues. When the play was first staged in 1942, they couldn't make the homosexual overtones of that fascination overt, but that aspect of the relationship definitely plays a part in the comedy and humanity of the situation.
Throw into the mix a maid who is a spiritualist exploring the occult, an infatuated debutante, a "barracuda" of a producer's wife who is on the seduction path, and an impending trip to Africa with only a week to prepare!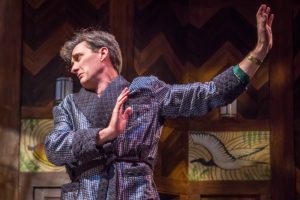 Present Laughter is what is considered a classic "comedy of manners," defined by Merriam-Webster as "a comedy that satirically portrays the manners and fashions of a particular class or set." In this case, the leisure-class of show business artists and administrators in wealthy 1930s London gets the satirical treatment. Playwright Noël Coward is a paragon of the genre, which includes dialogue that runs to the edge of the page.
Unlike other styles, where communication happens in interruptions and with long breaks for action and body language, each actor in a Noël Coward play is allowed to speak in full sentences and set up a joke completely before delivering the punch line. With so many words to pass back and forth, the actors must be able to grasp the style, rhythm, and wit of the dialogue in order to perfect the comedic timing and keep the play moving. Fortunately for Harlequin Productions, actor Aaron Lamb has mastered the mannerisms of this style of comedy and leads an excellent cast as Garry Essendine. Other cast members include Helen Harvester, Ann Flannigan, Dennis Rolly, Bruce Haasl, Maggie Ferguson-Wagstaffe, Marianna de Fazio, Laura Hanson, Xander Layden and Gabe McClelland.
As for the set, costumes and technical aspects that go into the play, "it's astonishing what our team can do," says Whitney. One of her original attractions to the play was the opportunity to create a beautiful picture with the sophisticated art-deco style of the 1930s. The set, props, and costumes practically (and sometimes literally) sparkle with elegance. Deep royal colors, graceful florals and chic hats characterize the outfits. One dressing gown (gentleman's bathrobe) is even printed with a peacock feather design in lush velvet.
The peacock feathers show up elsewhere in some of the ladies' dresses and hats and even more prominently in a painted accent of the luxury apartment set. Along with other tropical scenes, an intricate, plumed peacock adorns the gorgeous woodwork onstage, which includes a built-in bookshelf and fireplace, sweeping grand staircase, alternating light and dark chevron wood paneling (all paint, but it looks so real!), and at least five doors inviting a bevy of comedic entrances and exits.
In Present Laughter, we are invited into the personal home of a famous actor with a chance to see the hilarity and the real struggles of the "backstage life," reminding us all that celebrities are also real people. And yet, we continue to idolize them constantly. Some celebrities play into that role and fully capitalize on imagery of spiritual deities, which seems to satisfy some sort of desire for divine royalty among fans. (Beyoncé's 2017 Grammy's performance comes to mind.)
 "Some things never change," Whitney points out. "Celebrities may have Twitter accounts and send selfies around the world now. But there's that same human need for heroes, for immortals. And we deem them superhuman." But at some point, those superhuman expectations come face-to-face with the human reality. In Present Laughter, Garry Essendine is confronted with the limitations of his own humanity, and the expectations that surround him are put to the test. Whitney: "Garry is an idolized man who was a big star and continues to be a big star. But he's having a mid-life crisis; he's ready to not have to keep up that front."
To experience this delightful dive into the deep (and hilarious) waters of human relationships for yourself, call the Box Office at 360-786-0151 or stop by at 202 4th Ave. E in downtown Olympia to subscribe, and visit the Harlequin Productions' website for more information.