It will likely be a sight all too familiar in the local high school track and field scene.
The top three placers in the girls' high jump at the 53rd annual Shaner Invitational were all from Timberline High School. The same exact scenario played out in the triple jump at the South Sound Conference championships with Blazer jumpers once again completing the trifecta.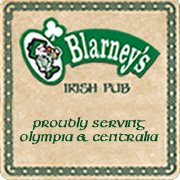 Better get used to it because none of the athletes are seniors.
Juniors Keshara Romain and Rachel Izuagbe placed first and second, respectively, while freshman Arianna Bush got up for third in the long jump at the Shaner Invite.
To prove it wasn't a fluke they repeated that order of finish in the triple jump at the 3A SSC championships.
"I have a small group of jumpers this year," said Timberline assistant coach Zandrea Edenstrom, "but it's a quality small group, and no seniors. We're excited for the next four years. Arianna convinced me I have to stay four years. I wasn't planning on leaving, but now I'm stuck."
In the long jump, the youngster Bush has posted the top mark among the three this season, registering a team-best 17 feet, 3 inches at the Black Hills Wolfpack Invitational. Romain isn't very far behind, jumping a personal record 17-1.75 at the Shaner Invite, while Izuagbe cleared 16-11.5 in late April.
"They all have the potential of hitting over 17 feet," Edenstrom said. "Just having three of them in that 17 foot range is great, and each time out there's a different one winning. Last time it was Rachel. The time before that it was Ari and now is Keshara. It's a great problem to have."
Romain leads the team in the triple jump with a distance of 38-3.75. Izuage is second at 35-11.5 with Bush currently sitting in third at 34-9.5.
Having one member of your team clear 35 feet in the event during a season is impressive, but to have three really places the Blazers in rare company.
"It's a different event," Edenstrom said about the triple jump. "People think it's going to be hard before they first try it. It looks funny and usually their first jump is not very good or it's just messy, which is discouraging. I just keep at the kids. When they finally get that feeling of getting a good jump in, that's usually when I get them hooked."
All three athletes established PRs at the Shaner Invite on May 5, meaning all three appear to be peaking as the district and state meets approach.
Romain, who also set a personal best by winning the long jump that same day, and Izuagbe, finished first and second at the Shaner in the triple jump, while Bush was a game sixth in a stacked field of potential state champions and placers.
The Timberline trio also comprised the top three finishers at the South Sound Conference championships – giving the Blazers a solid chance of advancing all three to the state meet.
Romain, who holds the top mark among all triple jumpers in the 3A classification this year, is looking for a repeat trip to the state championships. She finished fourth in the triple jump last year as a sophomore, a short three months after picking up the event.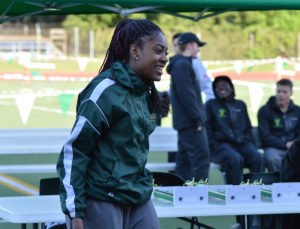 It was through the encouragement of Edenstrom, who finished third in the long jump and second in the triple jump at the 3A state meet during her senior year at Tumwater in 1999, that Romain initially tried the triple jump.
"She rolled in and had never down the triple jump before," Edenstrom said. "She looked athletic and I told her we were going to put her in the triple jump. I always get a little push back with almost every athlete I try to get into the triple jump."
That was definitely the case with Romain. Winning, however, made it more than bearable.
"It was tough to pick up. My technique was so bad," Romain said, "but I kept getting first place."
It's been more of the same during her junior year as Romain has won seven out of the eight times she's competed in with her lone non-win coming during the early stages of the season.
"I'm just trying to pick it up from where I was at the end of last season," said Romain, who was born in the U.S. Virgin Island before moving to Lacey eight years ago. "It's been really tough this year because of how bad the weather has been. I feel like I can't do rain."
With the weather warming up, Romain has circled 39 feet as her goal this year in the triple jump. The Timberline record is 41-1.25 set by multiple state champion and future University of North Carolina track star LaShonda Christopher during her sophomore season in 1993.
"I'm not so sure I can hit that," Romain said about Christopher's mark, "but I do think 39 feet is something I can reach."
All three Timberline jumpers will compete at the 3A West Central/Southwest Washington District meet on May 19 and 20 at Sunset Chev Stadium in Sumner with the top placers moving on to state championship meet, which will be held at Mount Tahoma High School May 25-27.